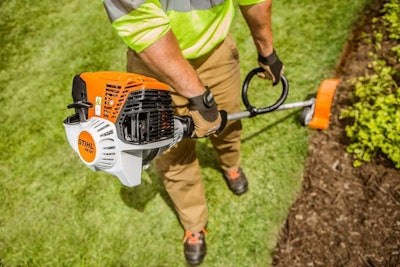 Previously available only as a STIHL KombiSystem attachment, the gasoline-powered STIHL FB 131 bed redefiner gives lawns and flower beds a crisp, clean edge, the manufacturer says, describing the tool as "professional grade" OPE and the best choice for lawn care companies.
The FB 131 has a 710-cc fuel tank and low-emission engine, STIHL says, along with a vertical pleated paper air filter for proper filtration and STIHL's "IntelliCarb" technology, which maintains desired RPM if the air filter begins to clog. The machine is easy to start, the company says.
"This dedicated bed redefiner has all the bells and whistles to deliver a precise edge at a consistent depth," said Marv Mathwig, product manager at STIHL Inc. "Its features also help users save time, which on the job means money."
Key features of the FB 131 bed redefiner include the following:
Semi-automatic choke lever enables three-step start procedure: Purge the primer bulb, set the choke and pull the starter handle.
One-touch stop switch allows user to turn off the engine with the press of a button. The switch automatically returns to the start position, saving time and reducing the chance of engine flooding when restarting.
Replacement blades with patented cutting geometry for performance.
Straight solid-steel drive shaft for durability comes with a limited lifetime warranty.
Handle provides easy access to all controls.
"Open" deflector to minimize clogging.
"Line of sight" indicator for precision.
Easily adjustable depth-wheel.
Replaceable heavy-duty skid plate prevents costly repairs to the gearbox.
Three-screw access to starter assembly for easy replacement on the job.
Unloaded overspeed protection designed to detect load changes and adjust engine speed in order to avert possible engine damage.
New one-screw service cover provides quick access to spark plug and valve train for adjustment and service.
STIHL's suggested retail price for the tool is $579.95. You can learn more at the manufacturer's website.