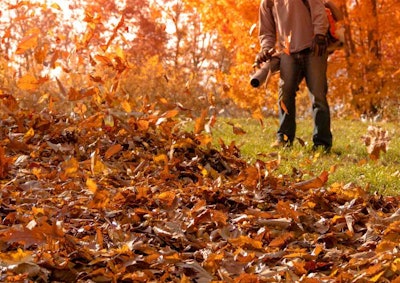 The fate of the leaf blower is looming for the city of Newton, Massachusetts, after a two-year debate that has failed to yield a compromise.
Although originally the proposal called for a total ban, the city's committee quickly found the other towns with strict blower regulations were in California and had considerably less leaves to deal with in the fall.
The town's Public Health Department and the Advisory Committee both reported that there was no compelling public health threat from leaf blower emissions.
In November, the City Council developed a new proposal that would ban leaf blowers in the summer and step up enforcement of existing noise rules that forbid the use of blowers louder than 65 decibels.
This requirement had been ignored for years, with landscapers often using 77-decibel leaf blowers, and the committee determined that the limited effectiveness of the ban had been due to a lack of residents' reporting noise violations to the police.
Most felt the police should be responding to safety issues so a civilian Code Enforcement Officer is proposed to enforce the new by-law instead.
Landscapers are currently pushing to be allowed to use one 65-decibel blower per lot during the summer and 77-decibel leaf blowers during certain circumstances throughout the year.
Karen Bray, a leader of Newton Safe and Sound, opposes this change, feeling they have already compromised enough.
"What we have asked for has been watered down more and more over the couple of years and so we feel like this is enough," Bray told Wicked Local Newton. "We've given enough."
Ward 3 Councilor at-large Jim Cote delayed a vote on the proposed law because he wanted feedback on how the change would affect seniors and people with disabilities.
The Council on Aging and Commission on Disability both held meetings on the issue but didn't announce any formal position on the matter.
At the meeting held by the Commission on Disability, residents shared how leaf blowers affected their lives.
A Waban resident, Alexander Blumensteil, explained how he suffered from hearing loss and tinnitus, which leaves a ringing in his rears. Noise from leaf blowers often irritated his condition.
Samuel Barth, a West Newton resident, mentioned how his son had cerebral palsy and sensory integration disorder, causing him to be very sensitive to the leaf blower noise. He pointed out that people weren't aware how much agony the noise could cause.
The city's ADA coordinator Jini Fairley spoke up about how the background noise of leaf blowers disrupted her ability to navigate the city as a blind person. She talked of having to wait for the sound to die down before she could safely cross the street. The din even frightens her guide dog on occasion, Fairley said.
Many others spoke of how leaf blowers negatively impacted their conditions, but Cotes also received letters from some disabled and elderly residents who depended on leaf blowers because they could not rake.
This feedback has caused Cotes to consider allowing certain residents to apply for a "quiet zone," where special leaf blower rules would be enforced.
The council will meet Jan. 17 to debate once more and likely vote on the rule.