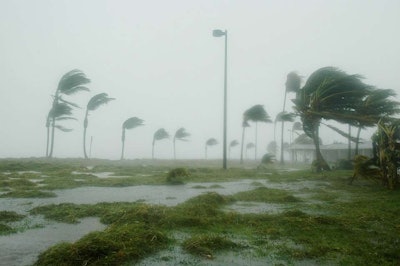 On Tuesday, Tropical Storm Gordon made landfall just west of the Alabama-Mississippi border, hitting the Gulf Coast with heavy rain and high winds, according to the National Hurricane Center (NHC).
After striking the coast at 70 mph, just under that of hurricane strength, the NHC said today that Gordon was weakening on a path into Arkansas near Pascagoula, Mississippi. It's possible, the NHC says, that remnants will likely cause flash flooding across parts of seven states over the next few days.
As of this morning, the NHC downgraded Gordon to a tropical depression, and the Orlando Sentinel says forecasters said radar spotted possible tornadoes spun off by the storm overnight in southern Alabama and the Florida Panhandle.
More than 27,000 customers were left without power in coastal Alabama, the western tip of the Florida Panhandle and a few hundred in southeastern Mississippi, the Orlando Sentinel says.
During storms of this magnitude and greater, many customers may use generators when power is lost, and the Outdoor Power Equipment Institute (OPEI) reminds customers to stay safe when using these devices.
"Not having power when you need it is frustrating, so a generator can provide emergency backup power at a reasonable cost," said Kris Kiser, president and CEO of OPEI. "But, it's important to follow all manufacturer's instructions when using one. For instance, never place a generator in your garage or in your home. The generator should be a safe distance from your home and not near an air intake."
Other tips from OPEI include the following:
Take stock of your generator
Follow all manufacturer's instructions
Have the right fuel on hand
Ensure portable generators have plenty of ventilation
Keep the generator dry
Only add to a cool generator
Plug in safely
Install a transfer switch
Do not use the generator to "backfeed" power into your home electrical system
Install a battery-operated carbon monoxide detector in your home or business
The Orlando Sentinel reports that this storm never became a hurricane, but the extreme winds did cause a tree to blow into a Pensacola, Florida, mobile home, killing a child.
Since these storms can arrive suddenly, the Davey Tree Expert Company recommends preparing your customer's landscape to withstand these instances early in the season. Proper tree maintenance ahead of time can help keep your customers, their families and property safer when the unexpected storms arrive.
Regular tree maintenance can help improve the strength of a tree during a storm, and preventative pruning to thin the canopy will help reduce wind resistance and the force that damages branches and tree trunks. Be sure to avoid topping the tree, as this will result in branches that are weakly attached and more prone to breakage.
Likewise, avoid the act of lion tailing the top of the tree, as this practice strips the interior foliage and branches. This leaves the weight of the remaining leaves and twigs at the very end of the branches.
Pruning also removes dead branches that can be easily broken during a storm, and careful evaluation is necessary to determine which branches should or shouldn't be removed or reinforced.
It's not only important to protect the portions of the tree that are exposed to the elements but also the root systems below the surface. By adding a wide mulch ring around the base of the tree, there's no need to get mowing equipment close to the roots, which can help minimize damage and allow water and nutrients to drain into the soil. Be sure not to add in an excessive amount of mulch, as this will smother the root systems.
Trees can also be one of the first things hit when lightning accompanies these storms, so installing lightning protection systems in prominent trees could help keep damage at bay.
Keep an eye out for trees with trunk cavities, as these will create a weak spot in the tree's whole structure. If the tree has strong, healthy wood, it's much more likely to withstand storms.
If your customers do find their landscape has been affected by storms after it's cleared, a site assessment will be necessary to see the full extent of damage done. Check the site for downed power lines when inspecting and be wary of trees and branches that could be barely hanging on.