Our experts help you spec' the trailer and options that will work best for you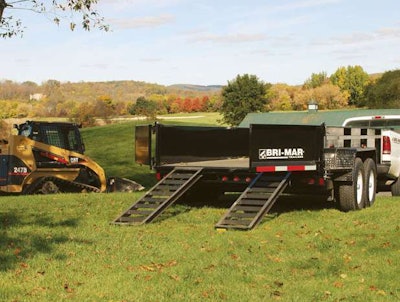 By Richard Ries
Trailers are an integral part of many industries, including landscaping. We talked to three industry specialists to get insight into how you can get the right trailer for your business.
Landscape specific
One solution for the diverse needs of landscaping is to have a trailer that combines elements, such as a flatbed and being enclosed. But such units can quickly become too long and may put too much weight on the hitch, says Sam Gayman, manager of sales and marketing, Bri-Mar.
"Contractors should use math to assess their needs, to figure out how much space they need, how much weight they're hauling and how often they need those multi-use features," Gayman says. He notes dump trailers are increasingly popular because they can also haul tools and equipment.
Bob Pace, Midwest regional sales manager, Towmaster, agrees. "Our models with hydraulic dumps and ramps are becoming our highest-volume sellers."
Although configurations vary, Pace says a typical dump trailer has the hydraulic motor driven by a battery on the trailer that is charged through the seven-pin connector from the tow vehicle, the same way a RV trailer's battery would be charged. The unit is operated by a remote control with a 12-foot cord.
It's important to buy a trailer designed for the landscape business because it will have features appropriate to that application. Tom Holt, national communications manager for Pace American, Look Trailers and Cargo Express, cites their pass-through fueling doors as one example.
5 top considerations in hitch selection
1. Weight rating – The required weight rating (or "class") depends on the weight of your trailer when loaded but must not exceed your vehicle's tow rating.
2. Ball size – The ball size on your hitch must match the coupler on your trailer. Standard sizes are 1 7/8, 2 and 2 5/16 inches.
3. Drop or rise – The ball may have to be raised or lowered to match the height of the trailer's coupler so that the trailer is level when towed.
4. Single-function vs. multi-function – A single-function hitch ("stinger") is OK if you only have one trailer, but multi-function hitches provide multiple ball sizes and heights so it's easier to switch between multiple trailers.
5. Carrying weight vs. distributing weight – A weight-carrying hitch puts the entire tongue weight of the trailer on the hitch. A weight-distributing hitch spreads the weight across the tow vehicle's chassis, which improves stability, especially with larger trailers.
– Beth Barlow, marketing manager, B&W Trailer Hitches