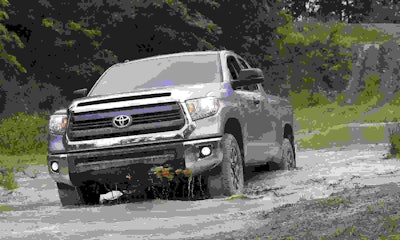 Toyota's 2014 Tundra premium model crew-cab 4×4 brings Lexus-like appointments to the jobsite.
Anyone who spends seat time behind the wheel of Toyota's top-of-the-rock Platinum-edition Tundra will get a true sense of luxury and power, while at the same time, having no doubt the truck can hold its own if taxed towing an equipment trailer or making a run to the home center or nursery for a load of mulch.
Watch a road test with this pickup below. And for more information on the new Tundra, read the April issue of TLC.
[youtube HMz3shV_BAA nolink]