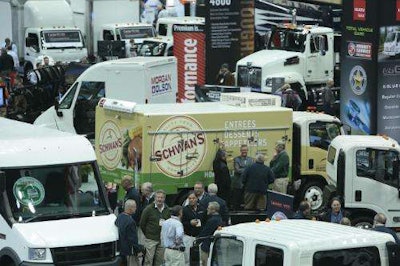 According to the recent numbers reported from The Work Truck Show 2014 that occurred earlier this month, the truck industry is growing slow but steady.
More than 10,000 industry professionals gathered at the show at the Indiana Convention Center, and the event featured more than 60 educational sessions.
"The success of this year's Work Truck Show is reflective of the slow but steady growth our industry is currently enjoying," says Steve Carey, NTEA executive director. "Vocational trucks and equipment are the tools that millions of people rely on every day to get their jobs done. As the economy improves and budget restrictions ease, vocational fleets are able to start replacing older equipment."
The Association for the Work Truck Industry, or NTEA, hosts the Work Truck Show annually.
More than 100 new products were introduced at the show, including the 2016 Ford F-650 and F-750, Mitsubishi Fuso Truck of America's 2015 Canter FE130 cabover work truck and many technology developments designed to improve work truck fuel utilization.
At the 2014 event, attendees had the opportunity to test-drive nearly 30 "green" vehicles for themselves between the Green Truck Ride-and-Drive and the new PERC-sponsored Propane Autogas Ride & Drive.