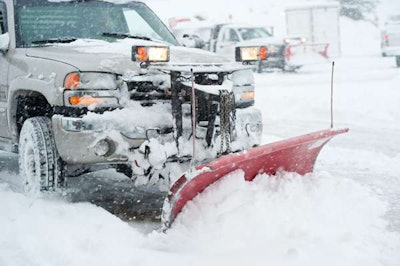 It's a few minutes past 3 a.m., the temperature is a toasty 11 degrees and the snow is falling so heavily that it's difficult to see the storefronts a mere 100 yards across the parking lot. The work is pilling up, literally.
Eric Curry, owner of RAI Inc., a landscaping and excavation company in Steamboat Springs, Colorado, makes a small adjustment to his Chevy Silverado's plow and keeps moving forward, all the while communicating with his other drivers as to how best to keep the snow-removal process running in high gear.
RAI will be pushing snow until the mid-winter storm moves out and the mall complex parking lots, alleyways and sidewalks are cleared enough for customers to safely go about their business. Several other RAI crews are doing the same at other locations in the area.
Curry is no different from thousands of landscaping and construction company business owners across the country taking advantage of removing winter's white mess for a steady revenue stream of green.
Related: How To Get Snow Plows Ready for Winter
One critical key to success in the snow-removal business is having their fleet of primarily 3/4- and 1-ton 4×4 pickups set to plow.
That means having trucks up to snuff on all-engine and transmission maintenance/repair issues, making sure the snow-plow prep components are in prefect working order and the blades double-and triple-checked for both function and structural integrity.
As for the plows, the manufacturers are constantly striving to make stronger, lighter, more durable and versatile offerings for the new trucks. Trip edges are reacting faster, and moldboard technologies are continually being researched and improved.
We are seeing more stainless steel and polycarbonates being utilized to reduce corrosion and move snow faster, further refinements to mounting systems for faster reconfiguration and electrical and hydraulics being more efficient and better protected from the elements.
Such advancements lead to increased productivity with less downtime for maintenance and repairs.
Those running older plows may want to check out updating to the newest technology: doing so could increase profits by reducing mechanical issues and improving overall snow-removal performance.
A newer, lighter-weight package could also reduce the associated wear-and-tear on the truck it's mounted on while saving fuel.
A plow is a big investment that can cost well into the thousands by the time the edge contacts the first flake of snow, which is why it pays to shop carefully. Compare the different brands and models available for your particular trucks and needs with those of your current plows. Run the numbers.
If you are setting up a new pickup for snow removal, make sure everything is in compliance with its warranty guidelines for such use, as well as meeting those requirements of the plow manufacturer.
There are dozens of makes, models and options to fit any budget and job. What we've highlighted here is just skimming the top of the newest in pickup snowplow offerings.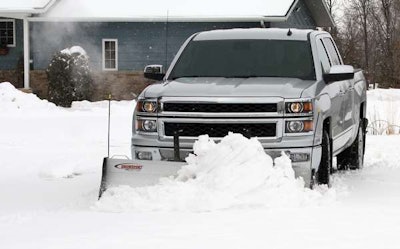 Snowsport HD Plow
The Snowsport HD Utility Plow is a bit different from most other snowplows: There're no hydraulic or electrical connections, and it doesn't have a sharp cutting edge. Instead, the light, low-maintenance, aluminum blade uses gravity and friction to engage the snow and a solid rubber cutting edge to plow. Its design protects expensive pavers and stones while preventing scrapes and gouges. The plow disengages when the plow rig backs up.
_________________________________________________________________________________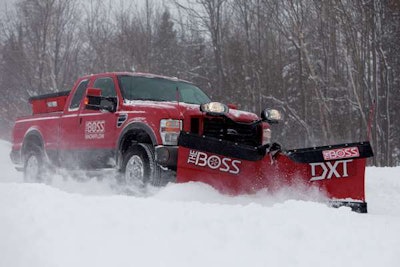 Boss DXT Plows
Available in poly and stainless (8 feet 2 inches and 9 feet 2 inches), as well as steel (8 feet 2 inches, 9 feet 2 inches and 10 feet) models, the dual-trip design combines trip-edge and full-moldboard trip features. The base angle trips independently, significantly reducing impacts when lower obstacles are hit. The full moldboard trip protects against taller obstructions (6 inches or more).
_________________________________________________________________________________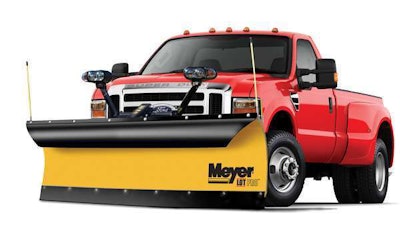 Meyer Lot Pro
Meyer Products' 32-inch-tall Lot Pros are available in steel, stainless steel and poly moldboards. Steel models are powder coated with Dura-Slick automotive paint with Teflon for superior snow-rolling action. Behind the moldboard is totally redesigned "black iron" consisting of robust, tubular steel A-frame and pivot bar. The modular EZ-Mount Plus system attaches or detaches from the truck in less than a minute and leaves the truck with a clean, off-the-assembly-line appearance when not attached.
_________________________________________________________________________________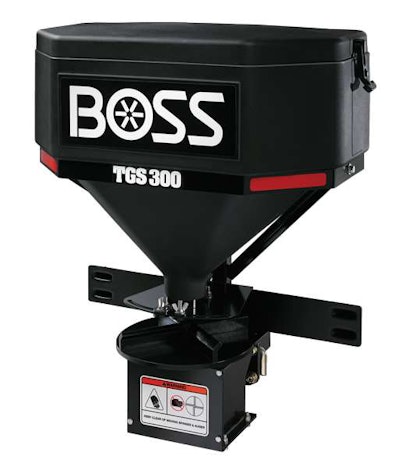 Boss Spreader
Engineered to spread free-flowing, ice-melting materials, the TGS 300 tailgate spreader from Boss Snowplow is designed for SUVs and light-duty trucks. The 3-cubic-foot TGS 300 tailgate spreader, powered by a single 12v motor, features variable speed control with blast feature and overload protection.
_________________________________________________________________________________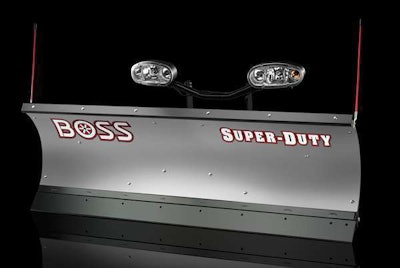 Boss Super-Duty Plows
Stainless plows are in big demand, which is why this year Boss Snowplow is offering stainless steel for its 7-foot 6-inch, 8-foot and 9-foot Super-Duty Trip-Edge plows, as well as its 8- and 9-foot Super-Duty Full-Trip plows. Select plow models will also feature sharp 304 stainless steel moldboards.
_________________________________________________________________________________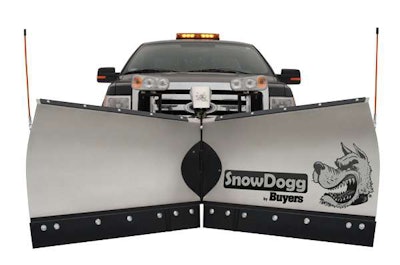 Buyers VMD Plow
The SnowDogg VMD Series plows from Buyers Products are a stainless steel, medium-duty, V-plow specifically designed for 1/2-ton pickups and sport utility vehicles. They use the same hydraulics and hinges found on larger VX plow models and feature quick attach/detach mounting with over-center linkage, operated by locking pins with foot pedals. A corrosion-free moldboard has a 70-degree attack angle with a 35-degree vertical travel lift arm for exceptional snow stacking. The digital controller provides comfortable one-hand operation with buttons designed for use while wearing gloves.
_________________________________________________________________________________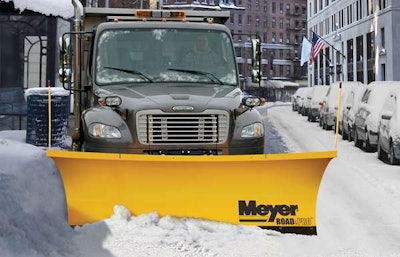 Meyer Road Pro
Class 5 trucks setup for plow work will benefit from Meyer's Road Pro 32-Series plow, which is specifically designed for 10,000 to 26,000 GVW vehicles and includes Meyer's EZ-Mount Plus system for attaching and detaching in seconds. It's available in 8-, 9- and 10-foot lengths. The plow uses Meyer's E-72 hydraulic system for up/down/left/right motion, or it can be used with a vehicle's central hydraulics. The Road Pro 32 is operated using Meyer's EZ-1 controller featuring Hands-Free Plowing (HFP) to reduce effort and increase performance and safety.
_________________________________________________________________________________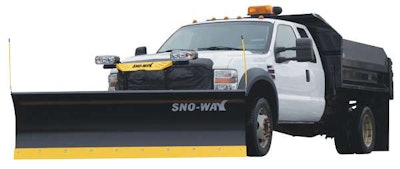 Sno-Way 32
The Sno-Way 32 Contractor Series is a professional's straight blade plow featuring many industry-first features. The 32-inch blade is constructed with a 12-gauge steel welded moldboard with Sno-Way's Down Pressure and patented Ground Hugger blade design to keep the plow on the ground. Wireless Pro Control makes installation and operation easy. Sno-Way's E-Z Switch wings are one of several options to tailor the 32 to whatever task is at hand.
Editor's Note: Bruce Smith is a Senior Editor at Randall-Reilly