What matters when spec'ing out service trucks
Trucks equipped with a utility body bring the shop to the jobsite. Short and simple.
What isn't as simple for first-time buyers is putting that initial service or utility body package together. That aspect can be as complicated as one wants to make it depending on the specific needs of the job – and the needs of those working out of the truck.
For the fleet manager or small company owner taking that first step from a traditional pickup to either a "bed-delete" or a "cab-chassis" work truck, spending a few minutes on the vehicle manufacturer's fleet/commercial website is a big help. You'll find a number of guidelines there, as well as plenty of ordering information.
You'll need to make a few decisions early on to make sure you get a combo that's perfectly suited to your business needs. The first: How big of a truck do you need? Will a smaller pickup suffice, such as GM's Colorado/Canyon or Sierra/Silverado 1500 with the bed-delete option? Or is a heavy-duty diesel model more in line with your needs?
Here's another question: Do the tools and equipment you envision rolling onto a jobsite require a dedicated cab-chassis in a medium-duty truck platform?
"The biggest challenge for first-time cab-chassis buyers in this area is matching their needs with the right truck so they are not buying too much or too little truck," says Robert Wheeler of GM's Fleet & Commercial truck group.
Bed-delete vs. chassis-cab
Too much or too little begins with the pickup chassis design. Notice the answer to the above leads to making the decision between a "bed-delete" pickup and a dedicated "chassis-cab" model. They are two completely different animals.
A bed-delete is exactly what it says: The pickup is ordered from the factory sans the bed, bumper and spare tire. So the frame upon which the utility body will rest is exactly as it is under any other pickup.
Cab-chassis frames are narrower than the traditional pickup chassis aft of the cab and the frame rails are straight, not arched over the rear axle. They also tend to have larger fuel tanks, and items such as the DEF tank and fuel filler positioned differently than the bed-delete pickup chassis.
Cab-chassis trucks typically have fewer trim and powertrain options than their bed-delete counterparts, too, along with a number of other differences designed to save the commercial customer time and money down the road, including engine and powertrains tuned for longer life under heavier sustained loads than the traditional pickup.
"The suspension on the Chassis Cab Ram 3500HD, for example, is rated to handle max GVW most of its life and the ride is slightly stiffer," explains Rod Romain, the Head of Ram Truck Vehicle Integration for the commercial division.
"The Ram Chassis Cab frame is flat and specifically engineered for a wide range of upfits," says Romain. " There are no components, wiring or fluid lines above the rear frame rails to ease installation of a flatbed or utility body. One piece, C-channel rear frame rails and through-the-frame plumbing and electrical provide a simple plane for ease of mounting application bodies and accessories."
These differences among truck chassis affect not only the installation costs and functionality of the utility-body-equipped truck, they also play to durability over years of use in the field.
Gas, diesel or alternative fuel
Once the decision has been made as to how much truck is needed, then the powertrain comes into play.
For many, diesel is the go-to engine. For others, the cost of the diesel option may be outweighed by gas, bi-fuel or dedicated alternative-fuel (propane/CNG) engine packages. Or maybe there isn't a diesel option, as with today's midsize and ½-ton bed-delete models.
The financial picture can be laid out in a spreadsheet: Note the expected annual fuel costs (calculated out for however long the truck is expected to be in service), in addition to the initial costs for the different engine packages vs. the base powertrain, then a comparison of annual service costs using each fuel option.
What a spreadsheet doesn't show is the worth of using alternative fuels, especially propane autogas, in relation to the environment and the public relations benefits within the community of being environmentally friendly.
Regional fuel prices also play a big factor. In some areas of the country CNG and propane autogas are quite inexpensive compared with gasoline or diesel. (The Propane Council has easy-to-use annual fuel calculators to figure how diesel compares to propane autogas.)
But from a pure power perspective, neither gas nor CNG/propane are as efficient in getting a loaded truck moving easier than diesel, and diesel delivers about 27-percent better fuel economy than gasoline and about 35-40 percent better than propane.
Diesels traditionally have longer useful engine life than their gas counterparts and a much higher resale value when that time comes. The downside of diesel is it has higher annual engine maintenance cost than either gas or the alterative fuels.
Whether diesel, gas or alternative fuel, it's wise to go with the engine that has the most cubic inches. Bigger cubes deliver more torque – and more torque means the ability to carry/move more payload.
Axle ratios also play an important role in any truck equipped with a service/utility-type body.
To that end, spec'ing the truck out with the lowest (numerically highest) available axle ratio is a real performance benefit – and the difference in fuel economy, in the grand scheme of things, doesn't make that much of a difference in annual operating costs.
"For fleet customers we offer both the 3.73:1 and 4:10:1 ratios with the gas engine and the 3.73:1 ratio with the diesel," says GM's Wheeler. "With the gas engine the 4.10:1 ratio will provide higher towing numbers and better low-end performance."
Those ratios are typical in today's pickup world. Most standard pickups are equipped with axle ratios in the 3.15-3.55 range, which provide the best in highway fuel economy. However, a truck equipped with a service body will perform better with 3.73-4.30 gearing, delivering better overall drivability and towing performance.
Suspension and other factors
Most cab-chassis trucks come with the stoutest suspension package (highest GVWR) the manufacturer offers, along with more robust cooling systems.
Bed-delete pickups, especially ¾-ton and smaller, are designed to give a smoother, softer ride to meet the needs of the general public. So one spec'd for a body upfit may need to be ordered with a heavy-duty suspension option (if available), depending on how it'll be used.
If the vehicle you're considering for use as a service truck doesn't already come with the biggest alternator offered, it's time to get one that has at least 220-amp output.
Thinking of removing the bed from one of your pickups and setting on a utility body instead of buying a designated cab-chassis? You may run into a few upfit hurdles.
Mounting a utility box on a standard pickup chassis usually requires relocating the fuel filler hose, re-routing wiring aft of the cab, addressing fuel-tank clearance issues, and getting the upfit body to sit properly on the arched pickup frame rails. All of which means some level of custom fabrication work on the frame and/or the body that's being put on it.
Body ordering and options
Think how you'd organize a tiny shop or huge tool box that was roughly 7 feet wide and 8-12 feet long. Then apply that thought to spec'ing out a utility/service body to meet the needs of the job. How you lay out the storage compartments, slide-outs, lights and wiring, whether it's an enclosed top, open top or roller top – and dozens of other considerations – all come into play.
The possible configurations are as diverse as the truck's intended use and the tastes of the operator.
As Jomac Truck Bodies' Carlee Leslie says, "There are as many types of bodies as there are industries and workers with specialized needs. The number and ways in which a basic truck chassis and cab can be customized and transformed using different types of service bodies is nothing short of astonishing."
Weight factors in
The biggest consideration is weight. The weight of the unit plays a big role in how the truck handles that utility body and the payload the body can carry. Weight is also key in determining towing capacity and fuel economy.
Fortunately reducing weight in utility/service bodies has become a new selling point for the body manufacturers, with more and more aluminum and composite materials being used in the construction of such upfit components. Steel is the least expensive material, but an 8-foot steel utility body can weigh 500 pounds more than an identical version made from aluminum because aluminum's strength-to-weight ratio is higher.
Jomac has a nifty fuel-cost calculator on its website that quickly shows the difference in estimated fuel savings between steel bodies and aluminum.
It's factors like these that contribute to the service-body-equipped truck buying process. Determine the need. Choose the truck that fits that need. Then choose the service/utility body that fits that truck. If you work with your truck brand's fleet/commercial sales representative and the body builder, you'll have a work truck that will pay for itself year in, year out because it has everything needed to get the job done.
SERVICE/UTILITY BODY PRODUCT SHOWCASE
The service/utility bodies shown below represent only a small sample of both body manufacturers and their newest offerings for 2015 pickups, be they cab-chassis or box-delete model work trucks.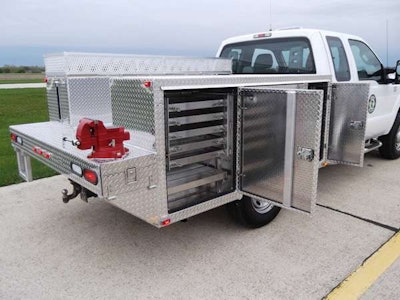 Alum-Line
Iowa-based Alum-Line offers a wide range of products for work trucks, including their all-aluminum Open Middle Service Truck Bodies that are designed to endure the punishment of severe-duty off-road use.
An Alum-Line's Open Middle Service body can be customized to fit both the truck it's going on and the tasks it needs to perform at the jobsite. Built for a lifetime of use, these fully customizable service bodies are available in either diamond plate, smooth or painted finish.
Enclosed wiring, lights, LED light packag, and custom side-box configurations are also standard. Options abound. Should an option not be on the custom build list shown on the website, Alum-Line has a knowledgeable sales staff on hand to help assist buyers. Contact: Alum-Line; 800-446-1407
___________________________________________________________________________________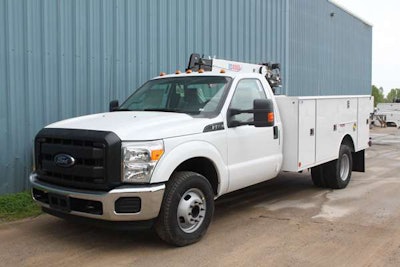 Caseco Truck Body
Caseco has a wide range of bodies and flatbeds to fit everything from dedicated cab-chassis pickups to medium-duties. Their newest addition is the Light Duty Utility Body with a 4,000-pound-capacity crane and integrated outriggers. This body comes with step-bumper, interior compartment lighting, slam-action tailgate and infinitely adjustable shelving.
They also offer a new Chipper Body with the shell and doors made out of 12-gauge steel. It also incorporates a hoist for easy dumping and a pair of underbody boxes for added storage and security.
The 96-inch-wide Commander Series Platform Body can be configured many ways. The Standard Models include 8-, 9-, 11-,12- and 14-foot beds with the single-rear-wheel (SRW) available on the 8 ft models. Custom lengths are also available. Contact: Caseco Truck Body; 918-283-4902
___________________________________________________________________________________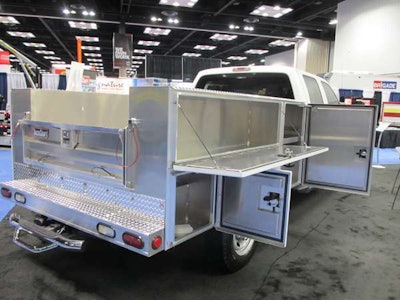 Truckcraft
Designed to fit mounts for 2015 SRW 56-inch C.A. Ford/GM/Ram box-delete pickups, the Truckcraft Lancer is a green-focused aluminum service body for SRW pickup chassis that will save fuel every driven mile while providing years of secure storage.
The deck floor and understructure are made from custom-designed extrusions of 6061 T6 alloy with tensile strength equivalent to steel for real durability, but weighing in at only 640 pounds, or about what your pickup box weighs now.
Combine classy powder-coated cabinet doors, the near-zero maintenance of aluminum, stainless steel hardware and a five-year warranty and you get TruckCraft's great fuel-saving service body that will likely be moved on to your next truck. Contact: Truckcraft; 800-755-3867
___________________________________________________________________________________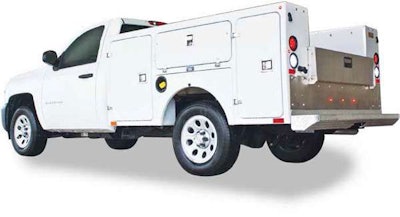 BrandFX
BrandFX is one of the few service-body builders that offers both composite construction and units designed to fit the new bed-delete 2015 GM 1500s and Colorado/Canyon pickups.
These weight-saving bodies are built on a steel understructure and finished in automotive-grade gelcoat with aluminum bulkhead and tail skits for added strength. All hardware is stainless with the floor and tailgate covered in diamond-tread aluminum.
These new bodies are available to fit the short-bed midsize GM pickups, GM ½-tons, and HDs of all brands. The long option list includes fiberglass tops to make the body fully enclosed, roll tops, crane mounts on the larger models, pull-out storage trays and LED interior lighting. Contact: BrandFX; 866-431-1131
___________________________________________________________________________________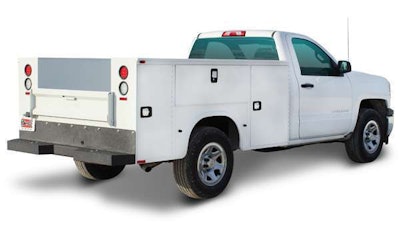 Knapheide Manufacturing
Few names say service bodies like Knapheide. The newest offering is the composite EC Series, designed specifically for bed-delete ½-ton and midsize pickups such as GM's 2015 Colorado/Canyon. With weight savings of more than 25 percent compared with standard steel service bodies, EC Service Bodies give the owner/operator more than enough payload for their half ton or compact pickup.
If saving weight isn't an issue, Knapheide's Standard Service Body, with it steel construction, is a solid performer with a wide range of options. The external compartments offer protection from the outside elements and allow the technician to access their equipment without having to climb into the truck bed.
Double panel door construction combined with stainless steel rotary latches keeps your equipment and tools secure and provides peace of mind. Knapheide's Standard Service Bodies come with a six-year warranty.
For the biggest jobs, Knapheide's Crane Body line is versatile enough to withstand everything from light to heavy-duty working environments. The 30,000 foot-pound, 38,000 foot-pound and 60,000 foot-pound Crane Bodies are designed to provide enough storage while boasting the capacity to lift your heaviest loads. Contact: Knapheide; 217-223-1848
___________________________________________________________________________________
Other Service Body Manufacturers:
Jomac Ltd; 800.755-4488
Warner Bodies; 765.551.1600
Highway Products; 800-866-5269
Stahl Truck Bodies; 800-277-8245
Reading Truck Bodies; 800-458-2226
Monroe Truck Equipment; 800-356-8134