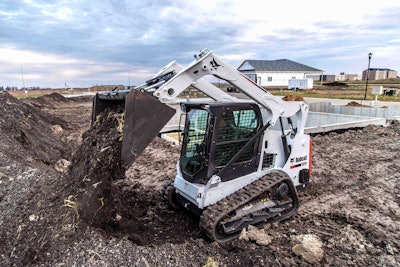 Right now your fleet consists of rubber tire machines like skid steers or compact wheel loaders. But maybe you have begun to notice rubber track machines and wonder if you should break out of your comfortable "tire zone" and see what tracks can do. A compact track loader (CTL) closely resembles a skid steer in that it has no articulating end. The main difference between a skid steer and a CTL is the tracks. Here are four signs it may be time to consider adding a CTL to your fleet.
1. Your crew consistently works in dirt/muddy conditions
Compact track loaders have gained popularity for several reasons, with their proven performance in tough working conditions being a top strength.
"CTLs have exceptional flotation, traction and versatility and will work in virtually any material and ground condition," says Hannah Tanata, marketing manager for ASV.
The design of the undercarriage, specifically the tracks, gives the machine its stability and low center of gravity, which equals better performance on slopes and uneven terrain. Because the machine's weight is distributed over a larger area, CTLs have a lower ground pressure, making them ideal for working on established lawns. However, operators needs to exercise caution when making tight turns on damp or newly sodded lawns or they will shred the turf and leave brutal track marks.
Using a CTL can also extend a landscaper's season.
"Operators can be in the field longer under wet and muddy conditions," says Bryan Zent, marketing manager for Bobcat. "They are less apt to have to wait a day or two for the ground to dry."
But landscapers beware: Operating a CTL consistently in applications where concrete, asphalt, rocks or rebar is present will significantly decrease the lifespan of tracks.
2. You benefit from greater lift capacity
For landscapers who often move heavy loads like pallets of sod, landscaping bricks, rocks or trees, CTLs can handle the challenge. Jim Hughes, brand marketing manager for Case Construction Equipment, says a CTL's heavier weight translates to a greater lift capacity.
"The increased rated operating capacity gives CTLs the ability to move more material in less time, which improves the end-user's efficiency on jobsites," Zent says.
3. You depend on the versatility of attachments
It is no secret attachments can eliminate the need for landscapers to accumulate several different machines. CTLs can accept dozens of attachments, from dozer blades to brooms and specialty buckets to tree spades. And most come equipped with a quick attachment system just like a skid steer.
Pierre-Laurent Verdon, skid-steer loader and multi-terrain loader marketing for Caterpillar, says by using a backhoe attachment, a CTL can become a mini excavator. CTLs can also enhance attachments' productivity.
"The extra weight allows the machine to have higher pushing forces, excelling at grading and excavating applications," Zent says.
Using attachments like snow blowers or snow plows with the increased flotation of a CTL is another way landscapers can utilize their equipment in the winter, Tanata says.
David Steger, national product manager for Takeuchi, says though wheeled machines with greater ground pressure have historically handled snow removal, tracks are becoming increasingly more useful in this arena.
4. Weighing the costs
A potential drawback for adding a CTL to your crew can be the operating costs, which are marginally higher for a CTL compared with a skid steer. However, CTL manufacturers boast the higher operating cost is offset by the increased productivity, and because CTLs require less maintenance.
And while tracks are more expensive than a set of tires, Hughes says depending on operating conditions and care for the machine, you may buy two to three sets of tires for every set of tracks.
If tracks are maintained properly, they may have a lifespan between 800 and 1,500 hours.
---
The do's and don'ts of track maintenance
To ensure a long-lasting track life, follow this advice from CTL manufacturers:
DO:
Clean the undercarriage regularly – remove any gravel or debris from tracks
Ensure rollers rotate freely
Make gradual turns if possible
Check track tension at least weekly – it should meet manufacturers' recommendations
DON'T:
Cause excessive track spinning, especially heading into a pile
Make sharp turns
Speed forward in a track spin; (instead, slowly move to neutral until traction is regained)
Use a CTL on abrasive surfaces for long periods of time
Operate at full RPM; instead only drive at speeds necessary to complete a job
Counter-rotate a CTL if possible