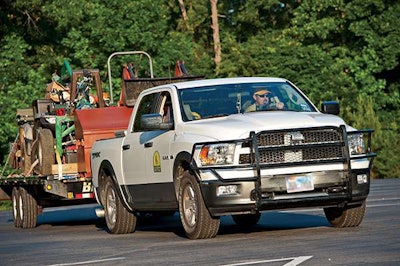 Trailers don't get much attention. They don't grind thick tree trunks to mulch or spray grass seed over barren land. They don't tackle excavation work or plow hefty mounds of snow. They don't pay attention to detail the way a trimmer does.
They do transport all of the machinery necessary to handle these tasks. A pickup truck can only do so much before a larger means of hauling is needed. Trailers are your workhorses, your pack dogs – knowing what they can do for you is important.
Trailers and their uses
There are about as many trailer varieties as there are ice cream flavors. You can narrow these down to the three categories most used by landscapers: enclosed, dump and flatbed. Each has its own advantages and disadvantages, and often a landscaper's personal preference determines a trailer's use. Many landscapers also find owning multiple trailer types is the best way to go.
Enclosed trailers
The biggest advantage for enclosed trailers is the storage aspect. They offer "safe, secure, water-tight storage," says Peter Calhoun, product manager for Pace American. Enclosed trailers give landscapers the ability to lock equipment when leaving a trailer at a jobsite for an extended period of time or when used as additional storage at the office.
Many landscapers build shelving in their enclosed trailers to house small tools. These trailers also protect equipment or plants from the elements.
Lee Buffington, president of Turf Tamer in Fort Payne, Alabama, says his company mostly uses their enclosed trailers to transport seasonal color change-outs and irrigation materials.
"[Enclosed trailers] keep the wind off the plants and keep them out of the sun," Buffington says.
Calhoun points to another advantage of enclosed trailers – applying company graphics to trailer sides.
"It's a rolling billboard for the company," he says.
Dump trailers
Dump trailers are used to receive and dump landscaping materials such as dirt, sand, fertilizer, stone or mulch. They can also transport compact construction equipment such as skid steers, compact utility loaders or mini-excavators, according to Shawn Myers, technical specialist for Bri-Mar. Don Dillon, landscape construction manager of Kinsella Landscape in Chicago, Illinois, says his crews use dump trailers to haul construction debris when doing excavation work. They also use the trailers in the winter to haul salt.
Brian Golembiewski, owner of Paramount Landscape & Maintenance in Tempe, Arizona, emphasizes the value of hauling away materials.
"You can get suppliers to deliver materials, but it is difficult to get used materials from jobsites, especially inorganic material like dirt and concrete, unless you have the right equipment," Golembiewski says. His crews use a dump truck he already owned, but he recognizes the importance and necessity of a dump trailer if a truck isn't part of a fleet.
"A dump trailer is a cost-effective tool as it can eliminate a mason dump truck that requires insurance, maintenance and most likely a CDL license to operate," Myers says.
Flatbed trailers
Flatbed trailers can be used for several different tasks, depending on the landscaper. Buffington's company uses its flatbeds for moving equipment and materials such as concrete retaining walls, sod pallets or trees. These things are more difficult to do with an enclosed trailer."You can't load a pallet into one or put trees down from the top – you have to walk them in," Buffington says.
He also says for most equipment with rollover protective structures (ROPS), a flatbed is needed because machines won't fit in the enclosed trailers.
A variation of the flatbed is the flatbed tilt trailer. Used to carry machines and attachments, Myers says it is easier for loading and unloading because landscapers don't have to deal with ramps.
Choosing a trailer
Knowing which type of trailer you need is only half the battle. Now it's time to look at the trailer itself and look at your own business.
"The worst mistake people make is to buy a cheaper trailer that's smaller," Buffington says. "You end up with it broken down on the side of the road. It's too lightweight for what you are putting on it."
The structure of the trailer and your payload work hand-in-hand. The gross vehicle weight rating (GVWR) is determined by adding the trailer weight to the payload. You can then compare the gross weight with a truck's specs to determine what size truck is needed. Myers says a good rule of thumb is to go up a size on the trailer to cover incidental loads.
Brad Roepke, sales manager for Titan Trailer, says trailers with double frames help avoid breakage on the back end from loading and unloading. Fenders are also important. Roepke says diamond plate fenders are made of a heavier gauge metal to withstand bumping and scraping. Many trailers feature drive-over fenders to accommodate the loading and unloading of heavy equipment.
Calhoun also encourages landscapers to think about the growth they expect from their businesses.
"You don't want to buy a new trailer six months later for a larger piece of equipment," he says.
---
Trailer maintenance
Trailer manufacturers recommend following these rules for maintenance:
Check wheel torque after first 100 miles and monthly thereafter.
Check tire pressure monthly.
Check coupler and wiring for proper operation at every use.
Check safety chains and breakaway at every use.
Re-pack wheel bearings annually or every 12,000 miles.
Adjust drum brakes every three months.
Lubricate hinges, locks and tongue jack every three months.
Wash and wax on a regular basis to maintain exterior finish.
Inspect frame for damage and cracked welds every six months.
Secure loads properly and ensure tarp kits are in working order.
Tighten lug nuts to specified torque value every three months or 3,000 miles.
Inspect brake magnets, suspension parts and wheels every six months or 6,000 miles.
Inspect brake linings every 12 months or 12,000 miles.
Always ensure load limits do not exceed gross vehicle weight rating (GVWR)
Winter tip: If storing trailers during the off-season, remove batteries from trailer brakes to keep them dry for the next season.