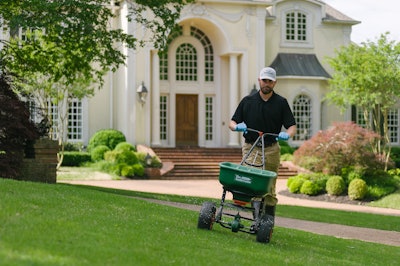 Master Lawn
When it comes to the success of your clients' lawns, it often boils down to a healthy partnership between the two of you. In order to help ensure that your clients are getting the most out of your services, it's important that they're educated on what to do after you perform certain work. Proper watering after fertilization is a big one.
Joey Steele, lawn and plant health care manager with Master Lawn in Olive Branch, Mississippi says that some of the most common questions he receives have to do with watering and fertilization. Homeowners want to know how long they should wait to water—and how much to water—after a fertilization service.
"There's an understanding that the decisions they make can affect their lawn care results," he says. "We always want to make sure that we're educating our clients on best practices."
When to water after fertilization
Steele says that they typically suggest waiting 24 hours to water a lawn after fertilization. But they emphasize that a good watering session is important since it helps to activate the fertilizer and allow the nutrients to begin feeding the lawn.
"As far as what time of day to water, we always recommend the early morning," he says. "In our region, watering in the middle of the day does not give the lawn enough of a chance to absorb the water before it evaporates. And watering in the later afternoon or in the evening can create conditions for fungal growth to occur."
How long to water
Steele says that homeowners also want to know how long they should water—and that answer depends upon Mother Nature. Generally, he recommends watering one to two times per week once the fertilization season starts in early spring. During periods of drought in the summer, that effort may be ramped up to three or four times per week.
"We educate clients on the ways in which drought stress can impact a lawn and we want to help our clients avoid that," he says. "Oftentimes we do recommend irrigation which is something our sister company offers."
How much water
As far as how much water to put down, the goal is to achieve around one to two inches of water per week (whether that's achieved via rain, hand-watering, or an irrigation system). Steele says it's not uncommon for homeowners to underestimate how much it rains (and how much supplemental water they need to be put down). He'll recommend a rain gauge if homeowners want a more accurate picture of how much rain their lawn is truly getting.
In terms of tackling watering efforts, Steele admits that using a hose or a yard sprinkler can become tedious in the hot climate of their region.
"It takes a lot of effort," he adds. "An irrigation takes away the guesswork. Our goal is always that the clients are happy with their results and it's important that they understand how much watering comes into play with that. We can do everything right from our end but if a lawn is under-watered it's never going to look as good as it could."