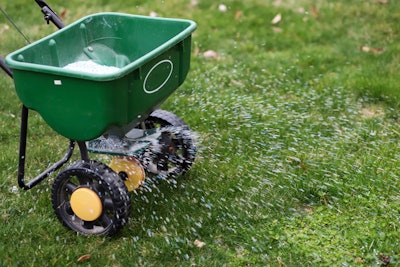 Fall is upon us, which means your customer's landscape could definitely use a little TLC in the fertilizing department.
Fertilizing not only helps your customer's lawn in the short term, but it also provides lasting benefits that can stretch throughout the season, and while it's true it can be done year-round, experts agree that the best time to perform this service is in the fall.
Check out why experts recommend beginning fertilization during this season, as well as the multiple benefits that accompany it.
Is fall lawn fertilizer necessary?

When applied before a period of active growth for the grass, fertilizer proves more beneficial, and for customers with cool-season grasses, fall is the ideal time to start fertilizing.
When lawns are fertilized in the fall, they will have an earlier green-up in the spring without additional shoot growth, which will reduce the likelihood of diseases appearing in the summer. It can also allow the landscape to have an additional green period later in the fall.
Many customers might be tempted to opt out of fall fertilization to save a little bit of money, but be sure to stress to them the importance of this service, as ignoring it could end up costing them more down the road than the initial fertilizing would.
Typically speaking, a good offense is usually less expensive and better than defense. Something will end up growing in the space, whether it's the turf your customer wants or undesirable weeds, but trying to repair the cost of weed damage could set their yard back for the whole season.
But why is fall the preferred time to fertilize, your customer might ask? From a horticultural standpoint, fall is prime time to make sure the nutrient levels of the lawn are at their optimum growing conditions. It can also prove to be a beneficial time for lawn renovations like overseeding, as fall is the best time to get germination of new grass.
For customers with cool-season grasses, fall is preferable for fertilizing because the soil temperatures are relatively warm, the air temperatures are cooling down and typically, precipitation is better and more common in the fall.
Along those same lines, grass will also have the opportunity to grow better root systems with the nutrients that's been stored, and the fall weather will help grass store energy reserves in the way of carbohydrates and will increase cold hardiness.
Liquid versus granular fertilizer
The question of liquid versus granular fertilizers will, inevitably, arise, but both play an important part in the landscape and have their preferred time and place.
The main macronutrients to focus on when choosing a fertilizer are nitrogen, phosphorus and potassium (NPK), and nitrogen will play the biggest part in helping keep the grass green while still encouraging the growth of shoots.
For your everyday lawn renovations, a grain or starter fertilizer may be used that has a different NPK ratio than if it was just for the sake of improving the lawn. If dealing with broadleaf weed control, it could prove more beneficial to use a liquid fertilizer.
Be sure not to overdo it with the application, as adding too much could result in an abundant growth spurt or could leave the grass chemically burned until later into October and November.
When to apply fall fertilizer
As for timing, it's important to remember that it's not a good idea to fertilize lawns before heavy rainfall to help prevent possible runoff. Avoid fertilizing until the lawn is dry, otherwise, the fertilizer left behind could potentially burn the turf.
The best time of the day to perform fertilizing is either in the morning or early evening, as you'll want to avoid hotter daytime temperatures. The first feeding should happen sometime between September and October, and the second should follow later on in November.
Customers may ask you whether the fertilizer application will be a one and done kind of deal or if it will need to be repeated, but it all depends on the products you end up needing to use.
Some fertilizers may be quick-release while others may be slow-release, which will alter the frequency of application. Longer release products might offer a timed release, and some newer formulas could last you year round, but they tend to be on the more expensive side.
Overall, it comes down to creating a strategy before application. If, for example, you begin fertilizing in the early fall, it's not necessarily ideal or required to use a slow-release formula, as you'll want to get the most benefits of the fertilizer later on when it can do the most good to the lawn.
It's also good to keep in mind that early fall fertilizers tend to have a shorter window of activity, so it's a good idea to use it while you can.
If you're fertilizing in the late spring, using a slow-release product will help stretch the exposure throughout the summer. If your customers also happen to have an irrigation system, applying a slow-release products could be more beneficial since these systems tend to leach those nutrients out of the soil.
Soil sampling
A good rule of thumb before applying fertilizers is to conduct a soil test. Even if you've worked with a customer for a long time, it's still good to test the soil every two to three years to ensure the conditions haven't changed.
Soil samples should be around six inches deep, and they should be collected from about eight to 10 areas throughout the yard. These samples will tell you the soil's pH, which will let you know what nutrients are present and which will need to be added back in.