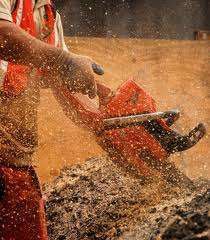 The accident: Using a chainsaw, a field manager for a landscape company was sawing roots off a stump while standing on one of the exposed roots. Losing his footing, he dropped the chainsaw as he sought to break his fall. The chainsaw tore into his leg, severing his Achilles tendon. He wasn't wearing chainsaw chaps or chainsaw-resistant boots. "He was lucky he didn't cut his whole leg off," a company manager said.
What the expert says: This real incident illustrates the importance of wearing proper safety attire, says Barbara Mulhern, safety specialist for the Professional Landcare Network, a national association of green industry service providers. In addition to chainsaw chaps and non-slip boots, the field manager should have been wearing heavy-duty gloves with a good grip, a hardhat, safety goggles or glasses with side shields and hearing protection.
Landscape construction and maintenance workers in general should wear long-sleeve shirts, pants, gloves, steel-toed boots and, in many cases, hardhats, chemical-resistant boots and gloves and eye, ear and respiratory protection.
If your workers balk at the idea of wearing long sleeves and pants in the summer heat, Mulhern says outdoor work clothes manufacturers now make these items out of breathable fabrics designed to keep wearers cool.
Pants and long sleeves help protect you and your employees from many of the hazards inherent in landscaping work: debris thrown by mower blades; contact with machinery; and sun and chemical exposure. "That being said, it's really important that the pants don't have cuffs hanging below the shoes or boots – a tripping hazard – and that the shirts aren't hanging out of the pants," Mulhern says. Shirttails could get caught on equipment that could pull the person into it, potentially resulting in death.
Silica dust, which causes the fatal lung disease silicosis, should be of particular concern to landscape contractors. The dust forms when workers crush, dump or haul concrete, masonry, sandstone and other abrasives. With landscaping, "It's not just lawns," Mulhern says. "It's also decks and patios. Those are the kinds of activities where silica can get in the air."
Respirators can protect workers from silica dust, but you have to make sure you use the right type. Mulhern says the best way to do this is to buy from a reputable company with knowledgeable technical support people. If you need a respirator to protect you or your employees from chemicals, the chemical product label will tell you what kind to purchase. "The important thing with any type of respirator is to make sure it says on the box it has been approved by NIOSH [the National Institute for Occupational Safety and Health]," Mulhern says. Hardware stores sell other masks that don't provide enough protection, she says.
Also make sure your workers have chemical-resistant boots and gloves that shield them from the specific substances they are using. Ask your vendor a lot of questions if you're unsure about anything and be wary if the supplier doesn't have answers.
Whether your employees wear the proper attire for the job ultimately depends on you and your crew leaders. You should have written rules and you must enforce them, Mulhern says.