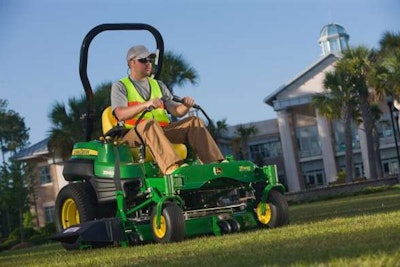 The accident: While operating a riding lawn mower, a landscaping company employee turned to look behind him as he drove around a large shrub. When he faced forward again, a sharp stick protruding from the shrub speared him in the eye. Surgery was necessary to repair the eye and restore the man's vision.
What the expert says: This worker was lucky to regain his sight, notes Tim Ard, manager of field application training for Husqvarna. Many people who puncture an eyeball don't regain vision after similar incidents. It's worth noting that OSHA-required safety goggles or glasses would have prevented this accident and many others common in the landscaping industry today. And if the thought of going blind isn't enough to make you wear protective glasses, understand that you could lose your job for failing to protect your eyes.
Ard says you should wear eye protection when operating line trimmers, brush cutters, chain saws, chippers and shredders, as well as any other time there is potential for eye injury. Eye protection is also a must when applying chemicals like fertilizers or pesticides. Basically, this means wearing eye protection in virtually every landscaping application imaginable, he says. And you should wear a screen or visor that covers your entire face when using chippers, shredders and line trimmers..
"We encourage the use of eye protection whenever a piece of mechanical equipment is being used in our landscape and maintenance divisions," says Jason Cupp, chairman and founder of Highland Outdoor, a design/build landscape firm in Olathe, Kansas. The company also requires eye protection anytime a foreign object could be a safety hazard; for example, when a worker is using a pick to manually excavate for a landscape installation. This is a sensible precaution since studies show injuries resulting from failure to wear safety glasses or goggles usually involve rocks, grass clippings, wood chips and other small objects lodging in the eye.
Landscape workers today wear eye protection more often than in the past, mainly because the eyewear now looks and fits like sunglasses instead of the bulky goggles of the past. But Ard says he still sees people not wearing protection when they should.
The most common excuse given, Ard says, is that glasses fog up or get scratched and dirty so they're hard to see through. But technology is making these excuses difficult to justify. Anti-fog-coated glasses are available, along with styles that allow air to vent in a way that prevents fogging. You can also buy cleaners that keep fog from forming on lenses.
Under federal law, your employer is required to provide you with eye protection that meets ANSI Z-87.1 standards. This designation will be marked on the frame, typically on the right earpiece. If your company isn't supplying this safety gear, you can call (800) 321-OSHA, the agency's hotline for reporting workplace safety and health hazards.
On the other hand, if your boss gives you safety glasses and you don't wear them, you could lose your job. An OSHA inspector could drive past one of your jobsites at any time. And if they spot you not wearing safety glasses, your employer will face stiff fines. Most company owners know this. So if your supervisor repeatedly catches you with your glasses in your pocket or truck, you could be a liability to the company and let go as a result.
If you and your coworkers are struggling to wear old, uncomfortable glasses that fog up, try suggesting a new style to your supervisor or company owner. With the glasses costing as little as $2 per pair, your employer might be willing to purchase several samples and let you and your coworkers choose the ones you like best.