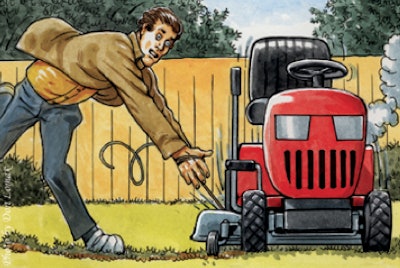 The accident: A landscaping company owner was operating a ride-on mower when he noticed a wire sticking out of the ground. To avoid running over it, he stopped the mower a few feet from the wire, walked over to it and, grasping the metal firmly, lifted it out of the ground. The wire was long and embedded just below the surface and extending beneath the mower. When the man exposed the wire, the mower's blades caught it, yanking his hands under the mowing deck. He suffered tendon and nerve damage and open fractures that required three surgeries. The man returned to work after nine months, but has persistent stiffness and numbness in his fingers.
What the expert says: Not turning off the mower's blades was a critical mistake, notes Dr. Keith Segalman, director of emergency services at Curtis National Hand Center in Baltimore, Maryland. The man also should have stopped the engine and set the parking brake before dismounting. Still, he was fortunate not to lose any fingers. In general, reattaching severed digits or limbs is realistic, but this is rarely the case with lawn mower accidents, Segalman says. The blades slice through the severed part multiple times in a matter of seconds, mutilating it. Because soil and dirt cover lawn mower blades, infection follows almost every injury.
Lawn mower accidents often occur when people try to unclog the deck with their hands. While this happens more frequently with walk-behind mowers, Segalman has seen patients who attempted it with ride-on mowers as well. "Anytime a blade goes to battle with a hand, the hand loses," he says. Not only should you turn the mower off and use some type of instrument – rather than your hand – to unclog the deck, you should be aware stored energy is trapped in the blade mechanism.
Ideally, no one should be in the yard with you while you're mowing. If a stone is caught up in the blades, "it's equivalent to a bullet shooting out of a gun," Segalman says. Be careful not to run over anything that could become a projectile, and if someone has to be in the yard at the same time, that person should stay at least 50 feet from you.
According to the U.S. Consumer Product Safety Commission, most fatal ride-on mower accidents involve the mower overturning or running over a person. To avoid tipping accidents, mow up and down slopes, not across them. If you can't back up a slope or feel uneasy about it, use a push mower. Watch for uneven terrain and don't stop, start or turn on a slope. Avoid mowing wet grass as tires could lose traction. Also stay away from drop-offs, ditches and embankments.
Burns are also common injuries associated with mowers. Flash fires occur when people spill fuel on a hot engine, Segalman says. Always let the engine cool before refueling and keep the nozzle in contact with the rim of the fuel tank until fueling is complete.
---
Treating blade injuries
If a lawn mower blade cuts you or a co-worker, wrap the injured limb in a towel – but don't make a tourniquet – and elevate it to stop blood flow, Segalman says. If a body part has been amputated, co-workers should search for it after sending the victim to the hospital. Put intact parts in a plastic bag or container and place that on ice. Severed digits or limbs that are stored properly can be reattached 12 to 24 hours later, Segalman says.