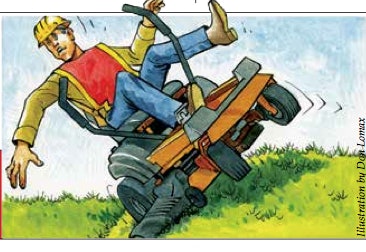 The accident: Using a zero-turn lawnmower, a landscape worker was cutting grass at a commercial property that included a retention pond area. It was the dry season, and the pond was empty. After mowing the rest of the property, the worker began cutting a swath around the top of the embankment, where weeds were growing. He drove across the slope, making a circle. When he turned downhill, to cut another section of the bank, the machine tipped, pinning the man and crushing him to death.
What the expert says: Drive riding mowers up and down slopes, not across them, and turn in the uphill direction, says Marion County, Florida, Extension Service Director David Holmes, who has led zero-turn mower safety classes for commercial landscapers (operate walk-behind mowers across slopes). Don't operate a zero-turn mower on any slope greater than 15 degrees.
Zero-turn mowers can weigh more than 1,700 pounds, and if the machine doesn't have a rollover-protection system (ROPS) and you don't wear the seatbelt, you won't be protected from that weight if the lawnmower overturns. Most manufacturers made ROPS standard equipment for zero-turn mowers in 2004. If machines your company uses don't have ROPS, tell your employer to contact the manufacturer; most will retrofit their products for free. When operating machines equipped with ROPS, be alert to the presence of guy wires and other overhead hazards.
Their ability to travel and turn quickly makes zero-turn mowers popular in commercial applications, but these same characteristics also create safety hazards. In an industry where "time is money," the most common mistake workers make is going too fast, Holmes says. "The more you run, the more you feel like you're on top of the speed," he says. You might think you have time to react to obstacles in your path when you don't. Because getting on and off a zero-turn mower is so easy, there's a tendency not to scout the site beforehand. "They'll say, if I see something, I'll get off and take care of it," Holmes says. Instead workers hit objects that could become projectiles. Maneuvering at high speeds is difficult, too. Operators often scrape trees, making them vulnerable to disease, Holmes says.
Here are some tips to keep you safe:
Avoid driving close to water as wet grass and muddy, unstable ground could be present. Also steer clear of retaining walls and drop-offs. Two mower widths is a good clearance zone. Use a walk-behind mower or string trimmer in this area.
Make deliberate, steady movements with the control levers. Don't change direction or speed suddenly.
Wear safety glasses and hearing protection.