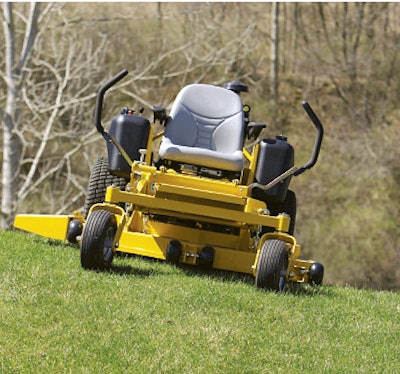 Parking mowers on level ground can help prevent accidents.
The accident: A 54-year-old public sector equipment operator is mowing a section of a 480-acre, city-owned park. He stops the mower on the edge of a hill and turns off the engine. After exiting the mower, he notices it is rolling down the hill. He attempts to stop the mower by stepping in front of it and becomestrapped underneath it. He is dragged 75 feet before being ejected from the mower. His coworkers see the accident, call for Emergency Medical Services (EMS) and he is transported to the local hospital where he is pronounced dead. He dies of multiple traumatic injuries.
The bottom line: Co-workers and pedestrians could have been warned of the rolling mower, and the operator should have allowed it to roll down the hill until it came to a stop on its own within the level grassy area.
The safest location to stop and park a mower is on level ground. In situations where it must be stopped on a slope, the mower should be positioned sideways across the slope with a block in front of the wheels. Employers should develop, implement and enforce standard operating procedures (SOPs) for operating and shutting down mowers.
Safe parking procedures include:
• Stopping on level, dry ground
• Disengaging the power take-off (PTO)
• Lowering the cutting decks to the ground
• Placing the mower in park
• Engaging the parking brake
• Turning off the engine and removing the key