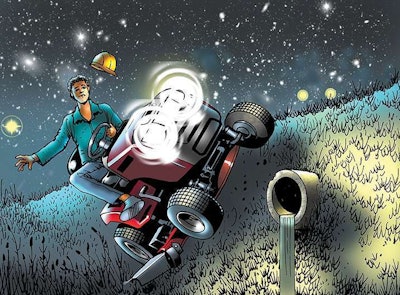 The accident: A lawn maintenance crewmember is cutting the grass in a drainage ditch at 10:45 p.m. with limited visibility because of the darkness. The ground is at a 45-degree angle. While mowing, he hits the concrete drain tile. The mower flips over, lands on the operator and crushes him. He dies of chest injuries.
The bottom line: If the worker had worn a seatbelt or used a mower with a rollover protection structure (ROPS), his death could have been prevented. Before attempting to mow a steep area, crewmembers should first look at the equipment's manual to see the maximum slope allowed for that specific machine. Here are more tips for preventing rollovers.
Avoid sudden moves: Abrupt stops and starts can cause the equipment to flip.

Slow down when turning. Turning quickly and sharply can cause the mower to overturn. Don't make a turn on a slope unless absolutely necessary. If turning is required, turn slowly and downhill.

Do not mow at night. Even with streetlights, vision is limited when it is dark outside, increasing the danger level of the project.

For riding mowers, mow up and down slopes – not across – and keep the heavy end uphill. With walk-behind mowers, mow across slopes to keep from sliding underneath the mower.

If the angle is too steep, use a trimmer to cut the area.

Do not mow over anything other than grass. Mow around objects that can't be removed and follow up with a trimmer.