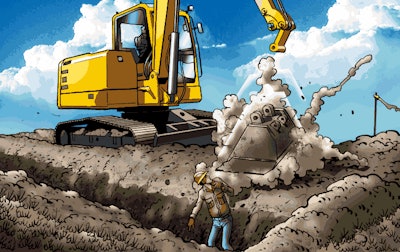 How to keep an excavator bucket from turning into a deadly weapon:
The accident: A 39-year-old worker is part of a crew that is digging a trench using a hydraulic excavator, which is equipped with a quick-disconnect bucket-coupler. The worker enters the trench to measure the depth, while the excavator operator switches buckets from a narrow bucket to a larger one. After the operator attaches the new bucket, he raises it to work on an adjacent trench. The bucket suddenly disconnects from the bucket arms, falls to the edge of the trench and rolls in the hole where the worker is measuring. The operator sees the worker is injured, calls 911 from his cell phone and puts a chain on the equipment to pull the bucket away from the victim. EMS and Med Flight responders arrive to the jobsite within minutes, but the worker is pronounced dead at the scene from major blunt-force trauma to the head and chest.
The bottom line: Workers should never enter the swing area of hydraulic excavators until they signal the operator to shut down the machine and receive acknowledgement from the operator. To make sure workers stay out of this area, mark it with rope, tape or other barriers.
There are two common causes for excavator accidents, according to the National Institute for Occupational Safety and Health (NIOSH): being struck by the moving machine, swinging boom or other machine component and being struck by quick-disconnect excavator buckets that unexpectedly detach from the excavator stick.
Here are safety practices workers on the ground and operators should follow when working with excavators.
Install and maintain positive locks on quick-disconnect equipment according to the manufacturers' specifications.
Operators should conduct visual and operational checks, including a series of bucket maneuvers, after changing attachments.
Adding a retrofit kit to the coupler can prevent the locking lever from opening when the bucket is being used, thus stopping the bucket from detaching from the arm.
Continually evaluate safety programs to address changing conditions at the worksite.
Do not exceed load capacities when lifting materials.
Lower the boom to a safe position with the bucket on the ground and turn off the machine before stepping out for any reason.
Use spotters or signal persons around operating equipment when necessary.