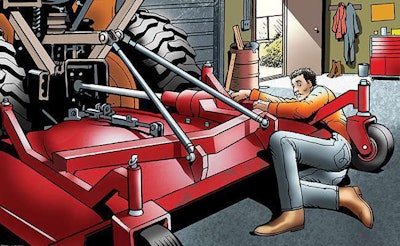 The Accident: A landscaper needs to replace the blades on a rotary mower – which is attached to the three-point hitch on a tractor – so he brings the tractor into his machine shed. He raises the mower to work underneath it, but he did not provide support or blocking for the mower. While he is working on the machine, the tractor's hydraulics is leaking on the floor. The mower slowly starts coming down, and the landscaper tries to roll out from under the attachment. He becomes trapped between the right rear wheel of the mower and the mower deck. The mower continues to come down, pinning him to the floor. He is found dead under the machine from suffocation.
The Bottom Line: While the landscaper was familiar with the equipment and sharpening blades, he did not follow the proper safety practices. Machines should be supported securely during repair and maintenance, especially when an operator is working under heavy machine components. Hydraulic systems should also be kept in good conditions and inspected regularly.
Here are tips for preventing similar accidents:
Proper supports should be kept available for maintenance work in the shop, and suitable supports should be carried to the jobsite for possible field maintenance.
Turn the power off, and remove the key before working around or performing maintenance on a machine.
Use the appropriate lockout/tagout procedures to prevent equipment from being re-energized while working on or around it.
Keep machines repaired, lubricated and adjusted.
Check machines for emergency stop switches.
Disconnect the spark plug before repairing a mower.
Inspect machines at the beginning of each day, and report any problems.
To download safety manuals or read more Safety Watch articles, click here.