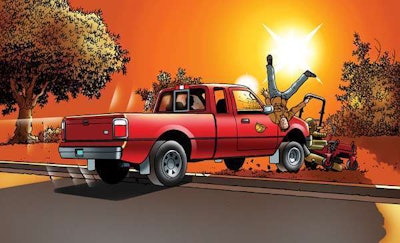 The accident: A Florida landscaper is mowing the grass in a road median about 8:15 a.m. While he is mowing, a mid-size pickup truck approaches the work area. The driver's vision is impaired from the sun glare, and he misses a curve in the road. He veers to the left and drives onto the curbed median. The pickup's windshield and side mirror strike the landscaper, killing him. The driver is uninjured and is charged with careless driving.
The bottom line: Working near traffic can quickly turn deadly if the proper precautions are not taken. Here are safety practices to follow when mowing alongside roadways.
Keep tools and equipment away from the roadside when not in use.
Post signs to let motorists know there are crews along the road.
Face oncoming traffic as much as possible when mowing around hazard markers, signs and guiderails near the edge of the roadway.
Watch out for out-of-control vehicles, and stay out of their way.
Locate potential hazards such as ditches, embankments or drop-offs.
Make sure the mower chute is pointed away from the traffic.
Don't park the mower on a public roadway. Instead, park it away from the road on a level surface if it must be left on the jobsite.
Wear highly visible, reflective clothing in addition to other required personal protective equipment (PPE).
Crews must undergo safety training for working near traffic. Crew leaders should point out hazards specific to the jobsite and how they can be avoided.
Evaluate the jobsite from the driver's perspective and note visibility limitations and blind spots.