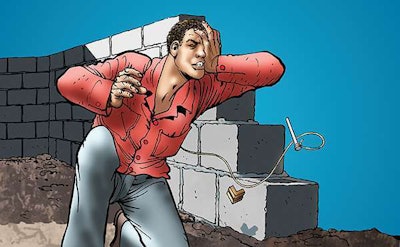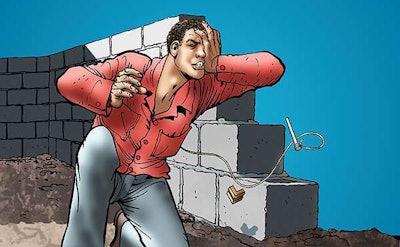 The Accident: A design/build crewmember is installing a retaining wall on a residential property. He sets up a guide string on the corner of the block wall to lay a course of blocks. He bends over to reach for something on the work surface, and his face scrapes the pin projection, which is attached to the string and metal pin. The pin pops out and strikes his left eye. He is hospitalized for a serious eye injury.
The Bottom Line: Eye injuries can happen on any type of project. If the crewmember had been wearing the right personal protective equipment (PPE), this accident might have been prevented. About 60 percent of workers with eye injuries were not wearing eye-protection equipment, according to the U.S. Department of Labor.
Not only are thousands of people blinded each year from work-related eye injuries, these accidents cost more than $300 million a year in lost production time, medical expenses and worker compensation, according to the Occupational Safety and Health Administration (OSHA).
For jobs where objects, equipment or chemicals pose a hazard, here are eye-protection safety tips to follow.
Employees who use corrective lenses must wear goggles that can be worn over their glasses or goggles that provide optical correction.
Keep eye-protection equipment clean and in good repair.
The protective eyewear should be reasonably comfortable and fit snugly.
Before starting a project, perform a hazard assessment to identify and control physical and health hazards. Look for hazards such as harmful dust, objects that could swing into the face (ex. tree limbs, chains, tools, etc.) or chemicals.
Employers should provide employees with the proper safety training and PPE based on the jobsite assessment.
Periodically review, update and evaluate the effectiveness of the PPE program.