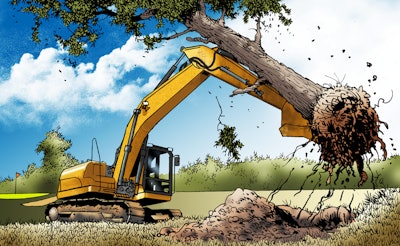 The accident: A 28-year-old worker is prepping a site at a golf course using an excavator. He is pushing down a 60-foot tall tree by digging around the base and then loosening the root system. He places the bucket against the tree's trunk and extends the boom outward to push the tree away from the excavator. The tree falls backward onto the cab, and the weight causes the roof to cave in. The worker is pinned in the cab and dies from asphyxia.
The bottom line: The site's wet, unstable soil and high wind speeds may have hindered the excavator operator's ability to control the direction the tree would fall.
To prevent similar accidents, equipment operators should follow these safety guidelines.
Make sure the equipment being used provides the highest level of physical protection and is appropriate for the work.
Before starting tree-felling operations, create a plan and procedures for safe operation. Decide the felling direction and different conditions such as wind direction, wind strength, slope and obstacles around the area.
Keep a distance of at least twice the tree height between the tree and other crew members.
Study the tree: Are there cracks or decay? Is it leaning, and if so, which way? Once the natural direction of fall is discovered, push the tree that way.