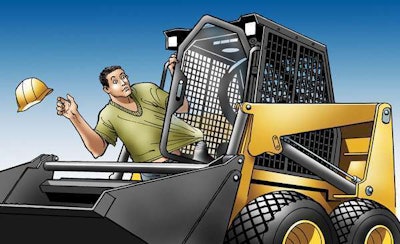 The Accident: An Indiana landscape worker is operating a skid steer to grade and excavate a backyard for an outdoor living area. He needs to exit the machine to say something to another crewmember, so he comes to a stop. He leaves the machine running with the bucket slightly raised and opens the door. While trying to get out, his shirt catches on an operating lever, which activates the liftarm control. The bucket moves down and pins the worker against the frame. The other crewmember sees this and calls 911. The worker is freed but is pronounced dead from blunt chest trauma.
The Bottom Line: Equipment operators should always lower the bucket flat on the ground, set the parking brake and turn off the engine before exiting. Here are other safe practices to prevent similar accidents.
Never enter or exit a skid steer when the vehicle is in use.
Keep arms and legs in the carriage at all times.
Don't operate skid steer controls from outside the vehicle.
Removing doors and cages increases the risk for injury.
Do not wear baggy clothes when operating equipment, and wear the proper personal -protective equipment (PPE).
Never try to perform maintenance on a skid steer when the arms or attachments are raised.
If the arm has to be raised for the job, use liftarm supports as recommended by the manufacturer.
When in the cab operating the machine, wear your seatbelt.
Operate on stable surfaces only.
When entering the loader, face the seat and keep a three-point contact with handholds and steps.
Never use foot or hand controls as steps or handholds.
Read more Safety Watch articles.