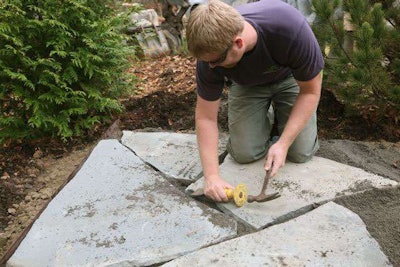 10 steps to create a simple path or patio using natural bluestone.
Although Pennsylvania bluestone is quarried from only a small area in the northeast of Pennsylvania, New York and New Jersey, it's used by contractors across the country in projects from the stairways of grand estates to simple but enduring patios.
Bluestone has many uses, from cut dimensional stone used in patios, walkways and stair treads to architectural stone used in buildings. It's also used for wallstone, decorative boulders, natural steps and other landscape features.

"You can use bluestone in so many ways and forms," says Ben Fotusky, a TLC 2012 Landscaper of the Year finalist and owner of Greater Scapes Landscape and Lawncare, Weaverville, North Carolina. "It holds up better over time than other flagstones. It's easy to shape, and the color options let you go from a narrow range of colors, say predominately blue, to hues of green, shades of lavender and sandy tones."
Following is how to lay a simple path or patio using a "stand-up" or cleaved variety of bluestone.
1: Lay out the perimeter and grade of project.
To establish the base grade and slope, it's best to use a laser level or transit to ensure proper drainage. If the project warrants it because of size, mark stakes in the high and low areas to serve as a guide for excavation and fill.
2: Excavate subgrade, compact soil.
Dig, level and compact the soil so the base is about 7 inches below the finished surface.
3: Pour, spread and level gravel.
Use road bond (crusher run) for the base. It includes stone dust that comes from crushing the gravel. Once it's compacted and seasoned, it forms an incredibly strong bond that holds up well to the weather.
4: Compact gravel.
The work you do to prepare a smooth, level and well-compacted base will dictate how much labor and time is required to lay the stone and level it.
5: Place edging.
To keep the materials stable, it's important to have some kind of edging, either metal or concrete.
6: Distribute and level fines.
To serve as a bed to lay the stone, pour and level about 2 inches of "fines" or stone dust. The depth depends on the thickness of the bluestone used. Typically, stand-up stone will vary in thickness from 1 to 2 inches.
7: Lay the stones.
Lower each stone smooth face up into the setting bed. Twist the stone a bit to help it make contact with the bed.
8: Keep it level.
Add or remove mix from below each stone to make it level. Use a masonry line running from a grade stake at the beginning of the path to check each stone for proper height and level.
9: Shape and fill stone.
To get a flush fit with adjacent stones, use a chisel and mallet to take off protrusions. The key is to chip off 1/2 inch or so at a time, otherwise you risk fracturing the stone beyond the intended area. To fill gaps, fracture a scrap piece until you have a usable form and size.
TIP: Bluestone can be cut for exact dimensions with a circular saw or cut-off saw mounted with a masonry blade. Score thick stone with a 1/2-inch cut and then make 1-inch passes until reaching three quarters of the thickness. Knock off the waste side with a sledge.
10: Fill the joints.
Spread fines across the stones and sweep into joints. Spray water lightly on stones and joints to encourage the fines to settle into joints. Repeat until joints are firm and level with stones.
PAYOFF: "Pennsylvania bluestone is more readily available that people think," Fotusky says. "It's versatile, and the look is like no other stone. These features make it easy to tailor to the customer's wants and needs."
The commercial refinishing process for bluestone cut slabs is called spalling. This process incorporates water and heat to reveal the natural layers of the stone as it was deposited originally. The cutting orientation must be almost exactly along the horizontal layers. The cut slab surface is soaked with water and heated rapidly with a wide nozzle propane torch, breaking off chips of stone along their natural fault lines. The spalled slabs are called Pennsylvania River Rock or variations of this name depending on the market or origin of the stone.