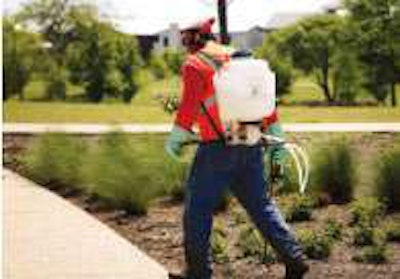 How to successfully add chemical care to your business
Adding weed and insect control and fertilizing services may be a natural fit for expanding your lawn or landscape business.
With licensing laws, recertification and the necessity of staying current on pests, diseases, application technology and new products, you'll need ongoing education. But even with these requirements, chemical care can be a profitable part of your business with the proper training and planning.
Why add chemical care?
Due to the confidence you've inspired by maintaining a customer's lawn or landscape for years, you have a built-in clientele for selling chemical services. "This is a relationship-centered business," says Fred Kapp, educational director of the Alabama Green Industry Training Center in Birmingham, Alabama. "Customers don't want just anyone walking around their yards and spraying chemicals. They already trust you."
Many business owners add chemical care because customers ask for it. "It's a value-added service," says Susan McIntosh, general manager of Lawn Pride in Indianapolis, Indiana. "Clients want one-stop shopping."
Profit margins vary, ranging from 10 to 40 percent or greater. "We typically hear about 15 percent from contractors," Kapp says. In addition, customers who buy one service from you often purchase others, such as irrigation or design-build projects. And healthy, green lawns tend to lead to word-of-mouth referrals, a large part of building your customer base in this business sector.
Getting licensed
The most time-intensive part of getting into chemical care is earning a license to apply pesticides, which include insecticides, herbicides, fungicides and even organic products. "What many people don't realize is that when you're receiving compensation for this kind of work, you must be licensed," says Kerry Richards, director of the Pesticide Education Program at Penn State University. "It doesn't matter if you're just spot-spraying a few weeds in a planting bed."
Every state has somewhat different requirements. "Most require a test," says Tom Delaney, director of government affairs for the National Association of Landscape Professionals (NALP). "Some have other eligibility requirements such as meeting residency status or having experience working under a licensed applicator." Neighboring states often have reciprocity agreements for licenses. Find links to your state's agency at npic.orst.edu.
To prepare for the test, obtain your state's pest applicator study manual, which is prepared by the state land-grant university. "It's possible to study the book and pass the test, but many people opt to take classes to beef up their knowledge," Kapp says. These classes may be offered online or in person by a university, co-op extension service or professional trade organization.
In most states, you first must pass a core test on basic pesticide knowledge and safety. Then you'll take a test in the category or categories in which you wish to become licensed (usually lawn and turf). In some states, you may be allowed to supervise applicators under your license.
Periodic recertification is also required. "You must take a number of educational credit hours in your category every few years to become recertified," Delaney says. In some municipalities, you may need to apply for a pesticide business license, contingent upon proof of insurance specific to pesticide applications.
With such stringent prerequisites, it's not a sector you can simply jump into without planning. "You need to learn the trade and work through the licensing procedure. This isn't an overnight process," says Peter Landschoot, professor of turfgrass science at Penn State University. "I'd give myself a year minimum to educate myself and take the exam."
Avoiding pitfalls
Staying informed about changing laws is crucial. For example, New Jersey introduced a first-of-its-kind law requiring training and certification for fertilizer application. It's equally important to stay current on new products, application technology and regional disease or insect issues. "There's no such thing as too much education," says Clint Waltz, turfgrass extension specialist at the University of Georgia.
To stay in the loop, get on e-mail lists from universities such as Penn State and UGA and product manufacturers such as Syngenta, who send out technical notes regularly (see box). Join state lawn associations, attend turf trade shows and webinars, network with others in the industry through professional organizations such as NALP and find a supplier who is knowledgeable about products and can troubleshoot when you don't know the answers.
Learning to identify common turf diseases and pests in your part of the country is also invaluable. Turf that's sick is bad advertising for your business. "You can't just throw down some fertilizer and think you've done your job," says Marcus Belote, owner of Turf Experts in Raleigh, North Carolina. "You have to understand when certain weeds are germinating or be able to look at brown patch and say, 'It's time for fungicide.'"
Get comfortable with your products and equipment. Pay attention to logistics, especially if you're a one-person operation. "It's easy to take on too much too soon," says Matt Barford, owner of Lawn Vision in Reynoldsburg, Ohio. "You decide you're going to cut grass five days a week and do weed control and fertilizer on the sixth day. But if you have a few days of rain, you're playing catch up, and the window of opportunity for ensuring certain products will be effective is small."
It's also imperative to keep accurate pesticide application records listing what was sprayed, at what rates and so on in case there's ever an issue with pesticide drift or turf damage, for example. "Save your records forever, and back them up. Then back up your backup," Waltz says. "Hard drive storage is inexpensive and well worth it if you ever need to hand records over to the state agency for inspection."
To franchise or not
Although Michael Currin had been in the landscaping business since 1979, he chose to become a franchisee with Weed Man USA in 2005. "I was seeing industry margins erode and looking for justification to stay in business 10 years from now," says Currin, CEO of Greenscape and a franchisee with Weed Man USA in Southern Wake, Chatham, Durham and Orange Counties in North Carolina. "We were driving past higher-end neighborhoods and wanted to offer them services. This seemed like the right opportunity."
Currin notes the biggest draw to Weed Man was the fact that they offer a proprietary computer system and a detailed business plan. "We could have started an independent lawn care service," Currin says. "We had the people and resources, but we didn't have the software, so this was a good fit. We're also able to apply some of the sales and marketing tactics to other segments of our company."
Franchise costs vary widely but can start around $20,000. Many franchisers offer financing, so it may worth exploring if you like the idea of having a plan you don't have to start from scratch. A franchise is your company, and you make the decisions, but you receive training, brand recognition and ongoing support, which can reduce your learning curve.
How do you make money?
Pricing services is an area that puzzles many owners. "We advise against being the low-price leader," Kapp says. "If the going rate in your area is averaging $55 to $75 per application and you're doing seven applications, you're only earning $140 more per year on the high end." Justify the higher cost to customers by explaining you're well-trained, use good quality chemicals and calibrate your equipment regularly. If you come with expertise, you'll get your price.
To reduce costs such as gas and drive time, target a certain neighborhood or commercial area so you can group jobs. It's also a good idea to establish a minimum pricing format so you don't do lawns for $10 a pop. "If your minimum is set at $32 for 2,000 square feet, you still charge $32 for 1,000 square feet," Kapp says. Another common mistake: not taking drive time into account when estimating jobs. Some contractors bill after each application, while others spread out payments across 10 months so there's always incoming cash flow.
Marketing yourself
The most powerful tool in marketing your services is you. "Get every certification you can get, even if it's not required," says George Pacheco, president and CEO of Pacheco Brothers Gardening in Hayward, California. "Then you can advertise those qualifications and show the customer you're a professional."
Invest in business cards and uniforms, even if they're just khaki pants and a shirt with your company name. Build a community presence. Join the Chamber of Commerce, and attend meetings for networking opportunities. Go to trade shows. Offer giveaways at community days. "What you're doing is 'branding' your name," Pacheco says. "You're more likely to get hired if your name is familiar to people."
Don't forget social media such as Facebook. "People often use social media when they're not happy," McIntosh says. "Respond to negative comments, not in a 'you're wrong and we're right' kind of way. But rather that you'd love to have the opportunity to speak with them and rectify the situation. You can't just ignore things like that or they take on lives of their own."
Startup Costs
Besides licensing fees, which vary by state, it doesn't take much more than a spreader and backpack sprayer to get started on a small scale. As your client list grows, you may wish to add equipment to get jobs done more efficiently.
Here's a basic idea of what you need:
• Heavy-duty walk-behind spreader $250 to $350
• Backpack sprayer (3 gallon) $100 to $150
• Licensing exam $25 to $125
• Annual license $15 to $200
• Recertification classes $15 to $45 per class
• Business license $35 to $900
• Personal protection equipment. Refer to the product label for what's mandatory for the applicator to wear. $125 to $225
• Insurance. Talk to your insurance provider about adding pesticide liability and damage protection.
As business grows:
• Motorized spreader for properties 1 acre or larger $4,000
• Sprayer tank (200-gallon) reservoir with 200-foot hose reel $3,500
Where to Learn More
North Carolina State University Turf Files
Ohio State University Buckeye Turf
Penn State University Center for Turfgrass Science
cropsoil.psu.edu/turf/outreach
University of Georgia Turf Grass Management
commodities.caes.uga.edu/turfgrass/georgiaturf/index/index.html
Professional Landscape Network
Syngenta GreenCast Tech Notes