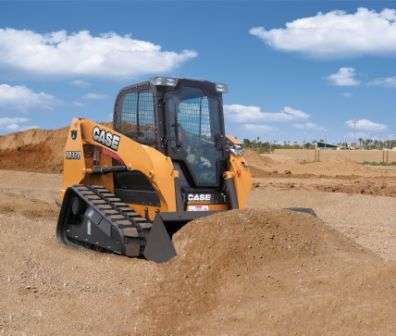 Case Construction Equipment upgraded its four largest Alpha Series skid steers and compact track loaders to meet emission requirements for Tier 4 Interim certification
The Case SR250 and SV300 skid steers and TR320 and TV380 compact track loaders now feature 90-horsepower (67-kW), 3.4-liter Case diesel engines with the full high-pressure common rail (HPCR) design typically used in larger construction equipment.
To meet Tier 4 Interim emission requirements, Case equipped the models with cooled exhaust gas recirculation (CEGR) technology, including diesel particulate filter and diesel oxidizing catalyst. Case selected CEGR technology as most appropriate for skid steers and compact track loader applications, where the engine typically runs at a high RPM.
Rated operating capacities are 2,500-pound (1135 kg) for the SR250; 3,000-pound (1361 kg) for the SV300; 3,200-pound (1451 kg) in the TR320, and 3,800-pound (1723 kg) for the TV380.