The Fockele Garden Company's design and installation of the Wilheit-Keys Peace Garden at the Northeast Georgia Medical Center has earned a Grand Award at the 2012 Annual Environmental Improvement Awards Program sponsored by the Professional Landcare Network (PLANET).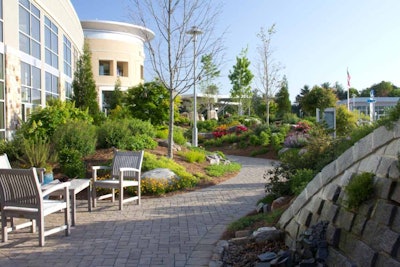 The Grand Award is the top designation by PLANET and the Wilheit-Keys Peace Garden was one of only 39 projects to receive the Grand Award nationally. The Fockele Garden Company was the only Georgia company to earn the distinction. Anne's Garden, also a Northeast Georgia Medical Center garden designed, installed and maintained by Fockele, earned a Grand Award from PLANET in 2011.
Gainesville philanthropists Philip and Mary Hart Wilheit funded the garden in honor of their late parents Tom and Jane Eve Wilheit and Jack and Mildred Keys. Both couples were avid gardeners and the garden includes many of the species of plants they cherished and grew themselves such as roses, daylilies, and hydrangeas.
"Being selected to work on this garden was both a joy and a privilege," said The Fockele Garden Company President Mark Fockele, whose first project when he founded the company in 1990 was a landscape project for Jane Eve Wilheit. "We were able to incorporate the types of plants the family has always enjoyed in their home gardens. It is a garden we believe that is beneficial to the patients, their families and the staff of the medical center."
There are more than 100 additional types of plants included in the garden. Each type of plant is labeled with both scientific and common names. Five fountains are placed throughout the garden providing both interesting architectural features, as well as the meditative sound of water splashing on stone.
Working closely with the garden donors, The Fockele Garden Company designed a place that offers a peaceful and inviting atmosphere, and at the same time includes sustainable practices such as a permeable walkway that serves as a rainwater collection area. Rainwater is stored in underground cisterns and i s used for irrigation as well as refill water for the five fountains.