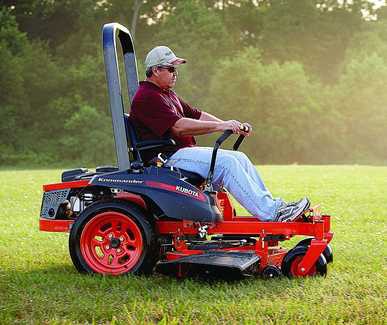 Two zero-turn mower engines from Briggs & Stratton have been selected to power the Kubota Kommander ZG124E and ZG127E, which are within Kubota's first zero-turn mower lineup for the residential market.
The Briggs-equipped mowers are powered by either a 27-horsepower Commercial Turf Series engine or a 24-horsepower Professional Series engine. Each engine has been especially outfitted for Kubota.
Briggs & Stratton Commercial Turf Series engines are engineered specifically for use in zero-turn mowers where they are exposed to higher levels of dust and debris. Their debris management system and five-step debris removal air cleaner system maximizes dust and particle filtration and their stronger cylinder block structure and head design extends engine life and lowers head temperature.
The Kubota Kommander Series ZG124E and ZG127E are equipped with a commercial-grade hydro-gear ZT-3100 transmission that delivers maximum power to the wheels and a large 4.3-gallon fuel tank capacity for fewer stops while working.
The Kommander's mower deck is constructed of 10-gauge welded steel with a 5-inch deep design and high blade-tip speed.
Kubota's exclusive K-Lift mechanical one-push deck lift pedal and dial cam allow the operator to adjust to a wide range of cutting heights, available in quarter-inch increments from 1.5 to 4.5 inches.