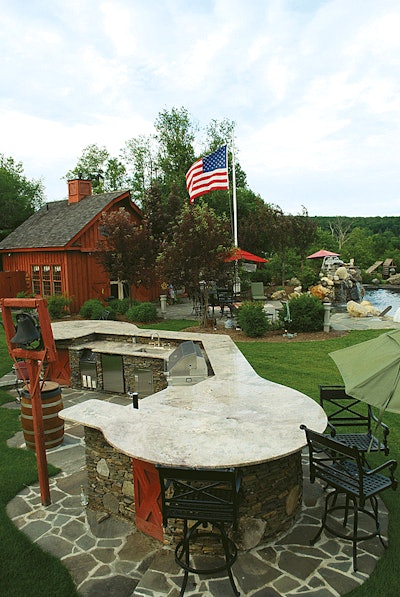 When David Katz of Elite Landscaping designs a landscape, it's about creating a space beyond a client's wildest dreams.
Enter the office of Elite Landscaping in Poughkeepsie, New York, and you're immediately and enthusiastically greeted by the public relations department: a 12-pound, tail-wagging bundle of joy named Emee. First impressions count. Emee's good-natured presence perfectly reflects the company's unbounded energy and eagerness to please.
Next, David Katz, 53, president of Elite Landscaping, appears. He's dressed in a crisp, white shirt embroidered with the company logo, tucked neatly into immaculately pressed jeans. "I love what I do. I hate mediocrity and excuses," he says. His intensity is tempered by a keen sense of humor and dedication to family.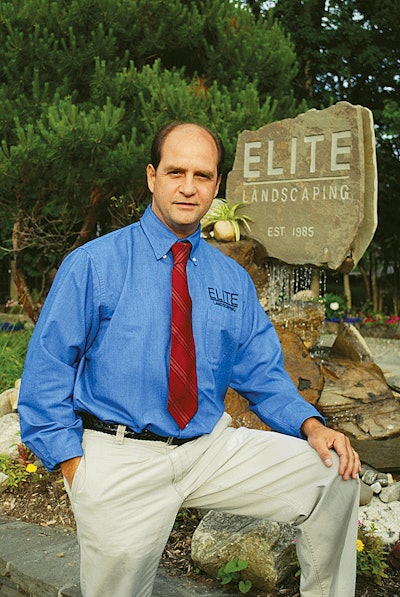 Photos fill a corner of Katz's office, showing wife, Debbie, and his two children, who grew up in the business. Debbie's office is across the hall; she puts in 50-hour weeks as she has for the past two decades. Whiteboards with workflow charts line the walls. Tools and equipment are stacked neatly in the workshop. All is orderly, a testament to Katz's attention to detail.
As a self-avowed perfectionist, Katz founded his residential design-build company based on several beliefs that have guided everything he's done for the past 28 years: Focus on customer service, creativity and good design to exceed customer expectations. It's a mantra that has served him well.
The beginning
With a mother who gardened and a grandmother who raised spectacular African violets, Katz grew up with an appreciation for plants. After taking an architectural drawing class in seventh grade, he became fascinated by design. Combining these two passions, Katz decided at an early age he wanted to become a landscape architect.
Katz earned a degree in landscape design and ornamental horticulture from Cobleskill State University of New York and then went on to study landscape architecture at Syracuse. He attended for a year but became disillusioned: "We weren't designing landscapes I could relate to," he says. He quit school and began working as summer help for a local nursery.
Katz's enthusiasm for the job soon evolved into management. "I'd seen managers come and go and convinced the boss to give me a chance," Katz says. He began designing landscapes for clients before and after his regular workday. During the next five and a half years, Katz gained invaluable experience with plant materials, vendors and clients.
Going solo
When a foreman asked if he wanted to go into business together, Katz felt the time was right. He started with two partners, who balked at the long hours and left him as sole proprietor within six months. With a new baby and two $25,000 jobs scheduled, Katz had to act boldly. He placed an ad and hired the first eight guys who called. Amazingly, the jobs went well, and the company's reputation blossomed.
As the company grew, Katz learned new skills to maintain quality control rather than sub out jobs. Today, the company is a one-stop shop offering services including fences and walls, decks and balconies, design, plantings, ponds and streams, pools and spas and even putting greens and pizza ovens. Clients never have to go elsewhere from a project's start to finish.
During the first few years, the business grew exponentially. Katz's wife, Debbie, helped on a part-time basis. Staff meetings were held late into the night in the couple's condo, with Debbie cooking for the whole bunch. By 1990, the company had grown from eight seasonal workers to 35, with 15 people year-round.
Katz learned it was too much, too soon. "There's an excitement when you're first building a company. You think you can do anything, buy anything. You feel invincible." By the time Desert Storm rolled around, the economy wasn't solid, and they had to lay off people; in fact, during the course of one winter, the company went from a surplus of $150,000 in cash to being $125,000 in debt after paying employee benefits.
Weathering storms
The company survived, primarily because Katz and his wife, who had since taken on a full-time role, put in long hours. "We ran this business alone together from 1994 onward," Katz says. "Debbie has been a huge part of my success. She's kept me grounded through the sleepless nights and been my partner and confidante."
After the economy tanked in 2008, business fell 22 percent. But it rebounded within a year because Katz was cautious during the boom years. "While everyone else was buying new equipment and adding employees, we held off on major purchases and were careful about hiring. We didn't want to let people go when a down cycle inevitably hit again," Katz says.
The family has endured personal storms, as well. In 2004, Debbie was diagnosed with cancer. The power of family is what continues to pull everyone through. "We have a strong marriage and a strong relationship with our children," Katz says. Their son, Mitchell, educated in business with a concentration in finance, human resources and accounting and certified in pool and spa work, came full time in 2010. Daughter Shellee, an accountant in New York City, serves in an advisory capacity.
Focusing on the client
One of Elite Landscaping's strengths is dedication to the client. Letters and emails from satisfied clients are posted throughout the office and on the website. His responsiveness and professionalism are mentioned repeatedly.
During consultations, Katz talks to clients about how they'll use the space. He sketches out ideas and uses marking paint to draw an outline. He addresses costs so clients instantly know if this is the right company for them. When a client has questions during a project, he insists on responding right away. "I don't like the phone to ring more than two times before it gets answered in the office," he jokes.
It's easy to imagine yourself relaxing in Katz's landscapes. For a family that wanted a fountain, Katz designed a Zen garden with a rocky waterfall and winding stream. For another family, he created a private Adirondack-style retreat with a cedar log pergola to screen out a too-close neighbor.
Katz works hard to tailor a project to the client's dreams. "There are no cookie-cutter designs," Katz says. One couple recently contracted to build a hot tub. While on vacation at Yosemite, they emailed Katz and joked they wanted him to recreate the national park in their back yard; Katz emailed back that he could do it.
The project is being carved out of a rocky hill behind their house to include a stream that appears to originate from the custom-designed spa, as well as a bridge from the master suite.
"There are no limitations to what we'll do," Katz says. "I want my clients to be blown away. I don't want them to say, 'It's nice.' I want them to say, 'Wow!'"
To learn how to become a finalist in Total Landscape Care's Landscaper of the Year program, click here.