Land Pride has released four skid grapples in 12 different sizes, as well as a skid-mounted stump grinder.
SSG2524 Stump Grinder – Land Pride's stump grinder features a 20-inch by ½-inch cutting wheel with 32 replaceable carbide-tipped teeth spinning at 1,100 RPM, maximum cutting arc of 55 degrees and depth of 8 inches below ground.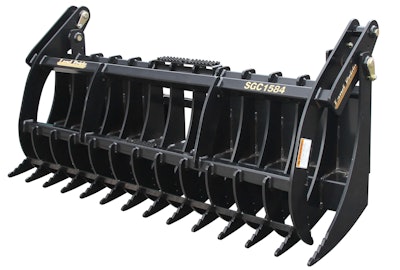 SGC15 Series Claw Grapple – The Claw Grapple makes quick work of large jobs. With a durable 6-by-6-inch frame tube for strength and serrated teeth, this grapple is designed to move rocks, trees, brush and construction debris. It is available in 60-, 72-, and 84-inch widths.
SGM15 Series Manure Grapple – The Manure Grapple is ideal for cleaning barns, moving hay or maintaining the barnyard. It is available in four widths from 60- to 78-inch with 8 to 10 spears.
SGR15 Series Rock Grapple – The Rock Grapple features dual hydraulic cylinders to grasp uneven loads, and 3-inch spacing between the teeth to sift smaller debris. It is available in 66-, 72- and 78-inch widths.
SGS15 Series Skeleton Grapple – Similar to the Rock Grapple, this unit is available in 66- and 78-inch widths but features 5-inch spacing between tines. It also employs dual hydraulic cylinders for handling uneven loads.