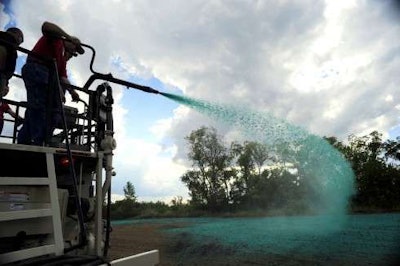 Finn Corporation has initiated a sales training program unique to manufacturers of its size.
The web-based program consists of 20 training modules or courses, specifically designed to educate the Finn distribution networks' equipment and materials sales personnel.
Each online module consists of a slide presentation and accompanying test, which requires an 80-percent score or better to successfully complete. More than 200 dealer personnel are currently registered for the program, provided at no charge by Finn. Upon successful completion of the program, each student becomes Finn Certified and receives a plaque and gift.
In addition to training modules covering all major Finn product lines – hydroseeders, bark blowers, straw blowers and material transfer system (MTS) – this comprehensive program also includes courses dedicated to Finn's landfill applications with the LF-120 HydroSeeder, plus Finn hydroseeding consumables and Fin Tru-Mulch hydromulch products. Future expansion of this online training program into the parts and service areas is likely.
Widely used throughout the United States, Canada, Europe and the Asia Pacific, Classroom Manager.NET is a training tool for professional training groups within corporations.
The application incorporates curriculum management, obtaining supervisor approval, course reminders, instructor communication, student sign-in, course evaluation, printed certificates and reminders of repeating requirements.
In addition to the training program to assist its dealer network, Finn also recently produced a marketing resource package to assist dealers in promoting Finn products, generates a quarterly dealer newsletter and hosts an annual Dealer Sales Conference to further educate, train and foster strong business connections.