Diversifying and tracking their business helped these landscapers reach their goal of serving high-end clients.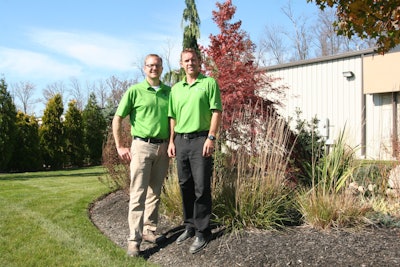 While still attending college in 1998, Jason Cromley and Matt Seiler started up Hidden Creek Landscaping in Columbus, Ohio, equipped with little more than a pickup truck, some shovels and a simple business plan: dream big, work hard.
In the ensuing years, they aggressively expanded their services when opportunities arose, emphasized great customer service, invested earnings in productivity-enhancing equipment and learned — the hard way — how to maximize profits through more accurate job estimating.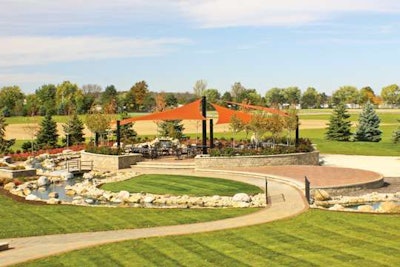 The results speak for themselves. Hidden Creek now employs 45 people, owns roughly $750,000 worth of vehicles and equipment and offers customers everything from grounds maintenance to design/build landscape installations for affluent residential clientele, including hardscaping, plantings and irrigation systems. In 2012, the company generated about $3 million in gross revenue, and it has averaged about 20 percent annual growth in the past 14 years, Cromley says.
About 55 percent of the company's revenue stems from landscape installations (roughly 75 percent of it from high-end residential clientele and 25 percent from commercial work), and the average project budget is about $60,000, up from just $10,000 five years ago, reflecting the move toward high-end clients. About 45 percent of revenue comes from grounds maintenance (about 95 percent generated by commercial accounts).
"We didn't really have a business model," says Cromley, who became friends with Seiler at Ohio State University, where they both majored in landscape horticulture and minored in construction management. "We were focused mostly on hard work. We knew equipment was important, so we bought things that would make our projects go faster — save us the most time and physical labor."
"We basically didn't pay ourselves for the first three years," recalls Seiler. "We just kept investing what we earned in machines and equipment."
Diversification is key
Becoming a fully diversified business was critical to Hidden Creek's success. In Hidden Creek's case, installation leads to maintenance work, and vice versa, Seiler points out. And having a maintenance division that generates steady cash flow through one-, two- or three-year contracts can help offset the installation end of the business, which is more vulnerable to volatile economic fluctuations, Seiler says.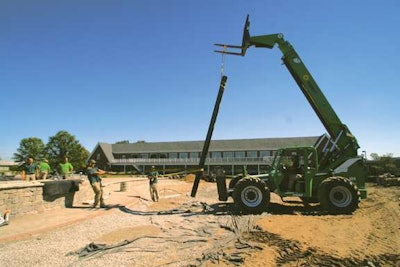 Moreover, a one-stop shop is more attractive because customers deal with just one company and don't need to be a general contractor. In addition, the company benefits by taking in revenue that would otherwise go to sub-contractors.
"Last year, we landed a $250,000 commercial installation project where the customer didn't want to hire anyone who used subcontractors," Cromley says. "We were able to run that project very fluidly…. as we put in plants, for instance, drip irrigation came in right afterward. Plus, we can determine our own schedule — no waiting for another subcontractor because he got stuck on a large project or his equipment broke down."
Another key success factor is the move toward high-end clientele, which occurred slowly as the duo's confidence in their abilities to handle larger projects grew and customer referrals snowballed.
"It was sheer happenstance — no grand strategy, and we didn't do anything marketing-wise aimed at only high-end customers," Cromley says. "But we knew that's where we wanted to go."
Larger, more expensive projects not only offer better profit margins, but they simplify scheduling logistics, too. In other words, a three-month-long job, where employees can directly report to the same jobsite for weeks on end, is much simpler to coordinate than dozens of smaller jobs during the same time span, he says.
"In addition, if you have a bad day (production-wise) on a big project, you can make up for it with a good day," Cromley explains. "But if you have two bad-weather days on a three-day project, there's no recovery — you're stuck."
The same calculus applies to profit margins. A couple rain days could reduce the margin on a small job to 5 percent from 25 percent. But on a larger job, the same rain delays might cost the company only a half percent in profit margins, he says.
Effective branding, marketing
Hidden Creek also relies on a comprehensive branding strategy that ties together disparate elements such as employee uniforms, trucks and a website (hiddencreeklandscaping.com) to increase name recognition.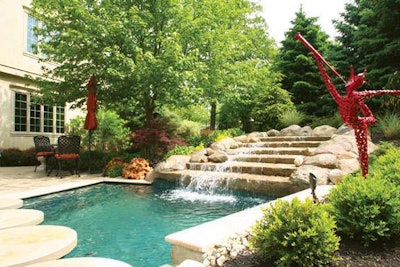 In 2008, the company took an unconventional marketing turn for a landscaping company by running televisions commercials; the ads ran about a dozen times after the noon news during a three-week period in both spring and fall. Unlike earlier marketing efforts, these ads were subtly aimed at high-end customers. The annual cost? About $6,000.
"We try to disqualify unwanted clients by showing nothing but high-end projects with swimming pools, outdoor kitchens and overhead pergolas," Cromley says. "In terms of figuring out a return on investment, I can't say that we sold, say, three jobs because of the commercials. But when we get calls, people often say they've seen us on TV."
Under-promise, over-deliver
Few things loom larger in Hidden Creek's success than providing great customer service. The proof? About 75 percent of the company's projects come via word-of-mouth referrals. And customers occasionally invite company employees to patio parties after a job is completed, Cromley says.
"Clients don't like us, they love us," he says. "We're not just their landscaper…who builds a patio and leaves. We become part of their management team…and create outdoor living spaces that exceed their expectations."
Three months after a job is finished, someone from the company visits the client. The same thing happens a year later. The company employee notes any problems and proactively resolves them. In addition, the visits provide opportunities to up-sell maintenance work, Cromley says.
A big part of effective customer service involves attracting and retaining great employees. Hidden Creek does many things to minimize employee turnover, including paying for ongoing education and professional certification programs; offering IRA investment plans and health-care insurance; paying for employees' cell-phone plans; and holding monthly companywide employee meetings to talk about company goals, finances and other pertinent topics (Seiler and Crowley either cook them breakfast or order out).
In addition, the company offers family-friendly flex time when needed and consults field employees about equipment purchases.
"The biggest reason we're successful is our employees," Cromley says. "We treat them with respect and tell them we appreciate what they do."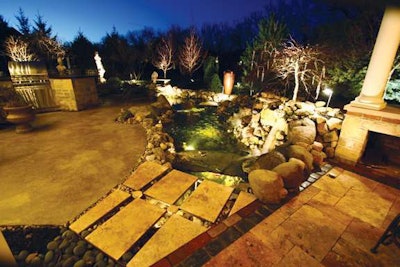 Bright future
Looking ahead, Cromley and Seiler expect further growth for their business, with an emphasis on growing the maintenance division, which requires significantly less capital expense than expanding the installation division.
They also want to fulfill their goal, stated in the company mission statement, to be the country's best landscaping company.
"Not in Ohio or the Midwest — in the country," Cromley says.
Because, it never hurts to dream big.
By Ken Wysocky
To learn how to become a finalist in Total Landscape Care's Landscaper of the Year program, click here.