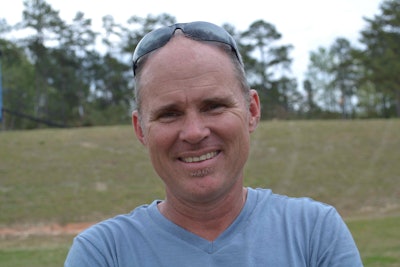 Columbia International University (CIU) Grounds Superintendent Norm Stewart has been named a Certified Grounds Manager.
Stewart is one of 143 people to achieve the status from the Professional Grounds Management Society (PGMS) headquartered in Baltimore. PMGS unites professional grounds managers, promotes educational information regarding grounds management and assists grounds managers in maintaining a high standard of business ethics.
To achieve the award Stewart had to pass tests, have his work site reviewed by certified grounds managers and submit a PowerPoint presentation covering nine areas including turf management, irrigation, budgets, finances and safety. He will receive a plaque and will be acknowledged at the annual PGMS awards banquet in Louisville, Kentucky, in October.
Stewart says becoming a Certified Grounds Manager encourages him to maintain a high level of professionalism.
"I believe the Certified Grounds Management Program sets individuals apart due to their passion for excellence and their love for learning, both of which I hope to continue to pursue," Stewart says. "I also believe that being designated a certified grounds manager carries with it the confidence that is often needed when communicating with those we work for and with."
Stewart says he also enjoys cutting turf areas with a walk-behind mower and working with irrigation. He holds the record for fastest time of stick edging the length of International Boulevard, the nearly half-mile long entrance to the CIU campus.
Last year, CIU was a winner in the Columbia Choice Awards recognizing landscaping and beautification.