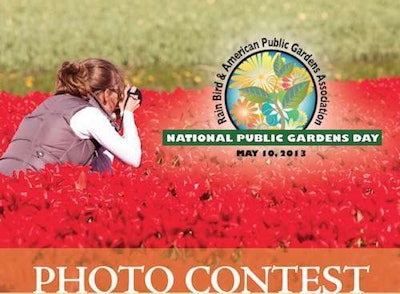 The American Public Gardens Association, in partnership with Rain Bird, are calling for entries into the 2013 National Public Gardens Day Photo Contest.
Photographers will have the ability to submit photos of America's public gardens until May 15 for a chance to win cash and prizes.
The contest is held in conjunction with National Public Gardens Day on May 10, which is a national day of awareness celebrating pubic gardens nationwide.
Those who participate will have a chance to win a grand prize of $500 and a one-year membership to any of the American Public Gardens Associations.
Eligibility:
A judging panel that includes National Public Gardens Day spokesperson and master gardener, Paul James, as well as representatives from Rain Bird and the American Public Gardens Association will review entries.
Following the close of the entry period at 12 a.m. Pacific Time, May 15, the contest judges will review all of the submissions and choose three winners based on their creativity, impact, beauty, originality and capturing the essence of America's public gardens.
The top three submissions as determined by the judges will be awarded the following:
1st prize

: $500.00, 1-year membership to the Public Garden of their choosing

2nd prize

: $250.00 and NPGD apparel

3rd Prize

: $100.00 and NPGD apparel