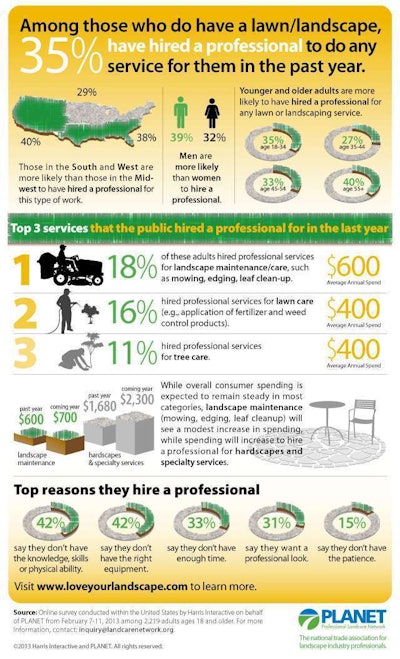 PLANET, a national trade association of landscape industry professionals, in partnership with Harris Interactive has conducted a U.S. online survey asking consumers about their spending on a range of professional lawn and landscape services.
The study was conducted in February and surveyed 2,219 adults ages 18 and older. About 1,800 of those have a lawn or landscape. About 35 percent use hired professionals – 38 percent in the South, 40 percent in the West and 29 percent in the Midwest.
According to the survey, the biggest spending increase will be seen in the design/build area. Consumers are willing to spend double from about $1,400 to $2,900.
Overall spending will remain constant, but landscape maintenance will see a slight increase of about $700 on average over $600 last year. Landscape installation will also see a small increase moving from $1,000 last year to $1,200 this year.
Where are people sending the most money?
In the past year, the top three services purchased by consumers who have a lawn and landscape included:
18 percent on Landscape Maintenance/Care ($600 average spent)
16 percent on Lawn Care ($400 average spent)
11 percent on Tree Care ($400 average spent)
More Stats:
Men outpace women when it comes to hiring professional landscape help during the past year (39 percent vs. 32 percent)
Younger adults, ages 18 to 34, stand out as most likely to have hired professionals for the building of outdoor living spaces, patios and walkways during the past year (9 percent vs. 3 percent of those aged 35+).
For the full survey, click here.