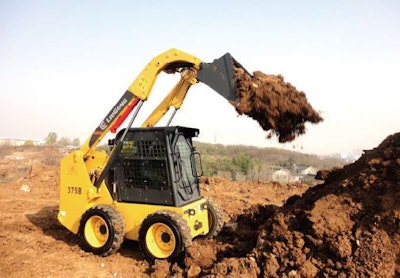 LiuGong has introduced a new machine to the skid steer market.
At bauma 2013 in Munich, Germany, LiuGong premiered the 375B radial-lift skid steer.
The machine features metal and glass with an 865-kilogram capacity. Curved corners provide a wider view of the jobsite with a solid "corner-to-corner" view of any attachment.
The dump clearance height on the skid steer reaches a height of 2,220 millimeter with a lift speed of 4.1 seconds. There is a 2.4-second dump rate and a float down of 2.2 seconds.
A double-lever pilot control offers smooth operation for the driver. The machine also features a hydrostatic transmission system along with hydraulic self-leveling.
Any LiuGong attachment can work on the skid steer, as well as existing attachments from other suppliers.
The Perkins 404D-22T engine has a rating of 43 kW gross power and meets EU State IIA tier 3 emission standards.