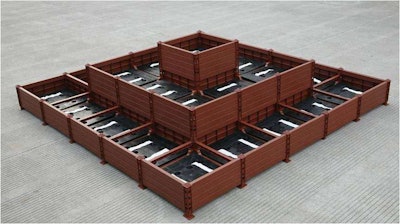 Being eco-friendly and having options when landscaping may seem unlikely. However, Energy Efficient & Eco Solutions has come up with several options for landscapers to help build and install sustainable projects for clients.
Rooftop Modular Gardening Technology
1. The University of Melbourne Research results suggest a 48-percent reduction in summer cooling load and 13-percent reduction in winter heating load.
2. Green roof technology reduced level of rainfall runoff. Urban usage can reduce impact on the regional watershed and improve water quality.
3. Green roofs are a Water Sensitive Urban Design measure that does not require additional spaces.
4. Green roof can decrease quantity and improve quality of rainfall.
5. Green roof provide Greener environments promote well being and improve people's moods.
6. Green roofs are more visually appealing than tar or gravel roofs, especially from the view of high rises.
Key Features and Applications
Raw Material imported from Korea, it is specially formulated for better Acid-Resistance, Alkaline-Resistance, Anti-Compression and Weather Condition Resistance
Built-in Reservoir for better and easy irrigation and drainage, maximizing rainfall's reuse reduces roof's water damages
Built-in breathing holes for air flows to keep water fresh and for soils oxygen supply
Designed raised from rooftop floor, act as insulation units for longer roofing material's live expectancy
Modular design interlocking system for an easy installations and transport, save time and money
Reduces up to 80 percent of labor cost
Multi Purpose Gardening Planter Box
Commercial & Domestic Use
Key Features & Advantages:
 

1. The Planter Box can be interconnected to achieve any combination of vertical and horizontal layout
2. Through assembly theses can change to any size and level of various needs of different heights
3. According to plant size, you assemble the box and simplify the production process, full use of resources
4. Easy to irrigate
5. Easy to assemble, fully stackable
6. To facilitate the transport and storage
Other options:
Vertical Modular Gardening Technology
Street Modular Gardening Technology