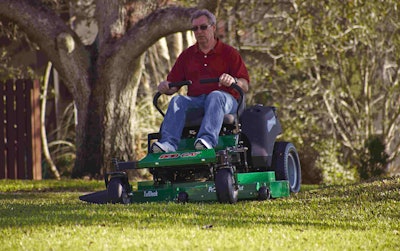 Bob-Cat introduced a consumer zero-turn mower line that features professional-grade power.
The Bob-Cat CRZ comes in 48-, 52- and 61-inch deck sizes and is powered by a Kawasaki engine.
The TurfDeck Cutting System features a double-wave baffle for more airflow and lift. The blades spin up to 18,000 feet per minute with a large impact-resistant discharge chute that fans clippings to eliminate clumping.
The deck is welded reinforced, 10-guage steel.
The starting price for the mower is below $5,000.
Mower Models
48-inch deck with Kawasaki FR600V 603cc engine
52-inch deck with Kawasaki FR651V 726cc engine
61-inch deck with Kawasaki FR691V 726cc engine
Fuel capacity: 6 gallon, single tank
7 mph ground speed
Durability
Welded and reinforced seven-gauge steel rear frame
Welded 2.5 inches x 1.5 inches and 2 inches x 1.5 inches steel tube front frame construction
TufDeck Cutting System
10 gauge welded and reinforced steel deck top/seven gauge welded steel side skirt construction
20-inch drive wheels and 13-inch casters
Discharge opening with impact resistant chute
18,000+ FPM Blade Tip Speed
Maintenance
Self adjusting idlers and maintenance-free idler pulleys
Maintenance-free cutter spindles and caster wheels
Warranty three years/300 hours
Accessories
Mulch Baffle Kit, Grass Catcher, ROPS, Eco Plate, and Suspension Seat Insert