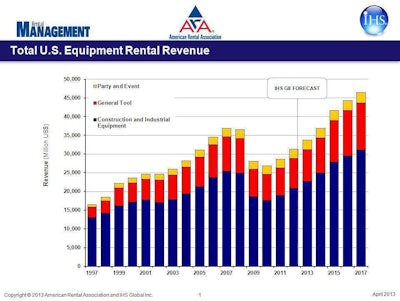 Approximately $33.6 billion in revenue is expected from the equipment rental industry in 2013 in the United States, according to the May forecast from the American Rental Association's (ARA) Rental Market Monitor.
This number is a 7.3 percent increase from 2012 with revenue growth reaching 7.9 percent in the fourth quarter.
IHS Global Insight in Massachusetts compiles ARA's Rental Market Monitor data.
The construction market and consumer spending is predicted to be the most important drivers for the rental industry for 2013.
According to the U.S. economic analysis from ARA, the U.S. equipment rental market is projected to increase in growth through 2017. Real residential construction will help the construction equipment industry, which is projected to grow 9.8 percent in 2014 and 11.8 percent in 2015, the report states.
The equipment rental industry in Canada is projected to generate approximately $4.6 billion in revenue through 2013, which is a 3.1 percent increase.
North America is expected to see $38.2 billion in revenue from equipment rentals for 2013.