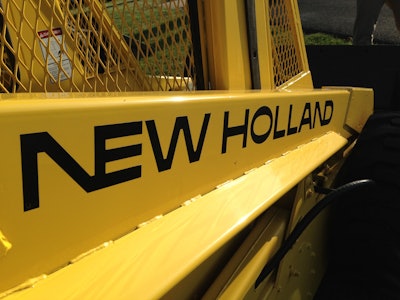 New Holland is keeping customers and the environment on the top of its list.
New Holland Construction implemented Tier 4 Final emissions control technology to its New Holland Construction 200 Series skid steers.
To do this, the company went to customers who use the mid-size skid steers, L218 and L220, according to Paul Wade, construction equipment product marketing manager.
After determining mid-size customers need a high-productivity, low-maintenance, low-cost machine, New Holland implemented the high-pressure common rail and diesel oxidation catalyst for the L218 and L220 machines. The machines will have no DPF, which means no filter to maintenance and no regeneration, Wade says.
With a 21 percent higher peak torque rise at 1,800 rpm, the L220 has a 12 percent increase in horsepower from 60 to 67 horsepower. The L218 remains at 60 horsepower, but has 7 percent more torque for additional power and performance.
The company also visited with L213 and L216 customers and determined initial cost was the most important element. Because of this, those machines feature a mechanical injection with a DPF.
The L213 skid steer features a 2.2-liter ISM engine. With this new engine, the gross horsepower increases from 46 to 49 horsepower, with a 9.6 percent torque boost. Compared to the L215 model it replaces, the L216 boasts an increased operating lift capacity of 1,600 pounds. Engine horsepower has been increased by 8 horsepower. Additionally, a hydraulic quick coupler option is now available on both of these compact skid steers.
In other company news, New Holland Construction marketing functions in North America have been integrated into New Holland Agriculture's new Pro Work Tools marketing segment group.
The Pro Work Tools market includes farmers, landscapers, municipalities, construction companies, grounds maintenance contractors and others who use tractors, as well as light construction equipment.
"There is a group of customers that are out there who have product-need requirements for both agriculture-type products and also construction-type products," says Dan Valen, Pro Work Tools Marketing Segment Leader, New Holland. "Other groups like landscape contractors, one of their most popular purchases importance in terms of dollars is the skid steer loader but number two is actually small tractors."
[youtube -yeEJghxtKs&feature=youtu.be nolink]