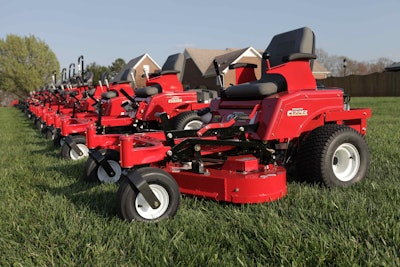 Country Clipper Mowers has introduced a new line of zero-turn mowers to its fleet of equipment.
All of the models feature the "Point and Go" joystick or twin-lever steering options.
Wrangler
The Wrangler is redesigned and equipped with a 22-horsepower Kohler or 21.5-horsepower Kawasaki engine to provide power and torque while discharging or using the optional mulching kit or grass bagger. The Wrangler can travel at speeds up to 7.5 mph and is available with 41-, 48- and 52-inch cutting widths.
Edge
New for 2013, the Edge is available with a 21.5-horsepower Kawasaki or 27-horsepower Kohler engine. With cutting widths of 48-, 52-, and 60-inches, the Edge is able to maneuver through narrow spaces or cover large areas of land at up to 8 mph.
Edge XLT
A wide front step provides ease of getting on and off the mower. Country Clipper's articulating front axle and deck allows these components to move independently. This model is available with a 24-horsepower Kawasaki engine and 52- or 60-inch cutting widths. It can mow up to 4.75 acres per hour with speeds up to 8 mph.
Challenger
The Challenger is offered with 30-horsepower Briggs & Stratton, 24-horsepower Kawasaki and 27-horsepower Kohler engines. This model can travel at speeds up to 9 mph and is equipped with 52- and 60-inch decks.
Charger
This mower features an articulating front axle and deck, which allows these components to float freely from the main frame. The Charger is available with engine options of 25.5-horsepower Kawasaki or 27-horsepower Kohler, paired with deck sizes of 52 inches and 60 inches. Running at speeds up to 10 mph, you can mow up to 6 acres per hour.
Defender
The mower starts with 26-inch drive tires, a wide wheelbase and fuel tank placement under the seat. The seat is designed with adjustable lumbar support and back and seat cushion angles, and mounted on vibration isolators with 3-inch travel suspension.
The Defender is available with several engine options, 25.5-horsepower Kawasaki, 27-horsepower Kohler, 35-horsepower Kawasaki or 29-horsepower Kohler with electronic fuel injection (EFI). It is equipped with 60- and 72-inch decks with speeds up to 12.5 mph. The Defender sports Hydro-Gear's ZT-5400 Powertrain drive system.
Standard on all models is Country Clipper's stand-up deck. Using the Quick Release System, the deck can be lifted to approximately 90 degrees.
All commercial models and select residential models are equipped with an articulating front axle and deck. Both float independently of the frame.