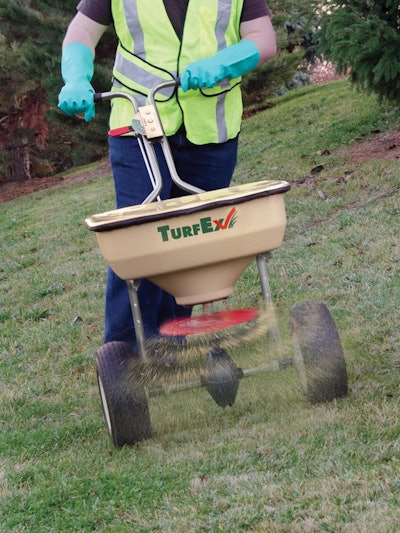 TurfEx has introduced four models of broadcast push spreaders.
Models TS65 and TS85 offer approximately 75- and 120-pound capacities and come with powder coated frames.
Models TS65SS and TS85SS have matching specifications, but are equipped with stainless steel frames for corrosion protection.
All products in the line can distribute fertilizer, pesticide, herbicide and seed with a maximum spread width of 12 feet.
Other standard features include a 10-inch molded plastic spinner, pneumatic tires, a top screen and a clear poly cover. The spreaders are backed by a two-year warranty.
| | | | | |
| --- | --- | --- | --- | --- |
| | TS65 | TS65SS | TS85 | TS85SS |
| Empty Weight | 25 lbs. (11.3 kg) | 25 lbs. (11.3 kg) | 42 lbs. (19.1 kg) | 42 lbs. (19.1 kg) |
| Overall Length | 50" (127.0 cm) | 50" (127.0 cm) | 52" (132.1 cm) | 52" (132.1 cm) |
| Overall Width | 26" (66.0 cm) | 26" (66.0 cm) | 29" (73.7 cm) | 29" (73.7 cm) |
| Overall Height | 28" (71.1 cm) | 28" (71.1 cm) | 33" (83.8 cm) | 33" (83.8 cm) |
| Frame | Powder coated | Stainless steel | Powder coated | Stainless steel |
| Capacity | 75 lbs. (34.0 kg) | 75 lbs. (34.0 kg) | 120 lbs. (54.4 kg) | 120 lbs. (54.4 kg) |
| Spread Width | Up to 12' (3.7 m) | Up to 12' (3.7 m) | Up to 12' (3.7 m) | Up to 12' (3.7 m) |