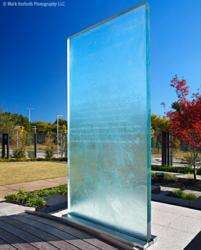 ThinkGlass is trying to get people thinking about glass when it comes to landscaping.
The company has created a variety of glass panels that can be added to exterior settings to help illuminate the area.
By crafting the glass to 1.5 inches or more, the glass can become extremely hard like stone.
The glass can feature a company's logo or name and can be combined with stainless steal or stone for a different design.
The glass can be incorporated into fountains and outdoor living areas, and is environmentally friendly as well as 100 percent recyclable.