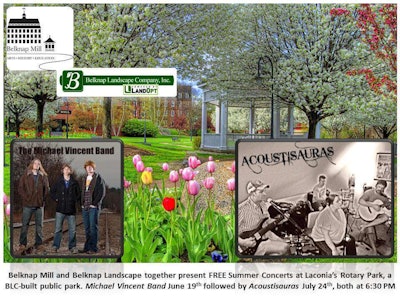 The Belknap Landscape Company has a few hidden talents besides landscaping.
The company will be participating in the Belknap Mill Sumer Outdoor Concert Series by bringing two bands from BLC family and employees.
The concerts will be hosted in Laconia's Rotary Park, which the Belknap Landscape Company built in the mid 1990s.
Rotary Park is a riverfront public park funded by the Laconia Rotary and built by BLC's Hayden McLaughlin.
The bands performing from the BLC group will be the Michael Vincent Band and Acoustisaurus
The Michael Vincent Band member Danny Mack, who plays bass and offers vocals, is part of the McLaughlin family. The other Michael Vincent Band members are Michael Vincent on guitar and vocals and Dan Hewitt on the Drums.
Acoustisaurus Band members include Moir, along with Michelle Tilton, vocals, Herb Cameron on guitars, banjo and vocals, Ron Huizen on the drums and other percussion instruments and Rob Orfant who plays guitars, the mandolin and the flute.