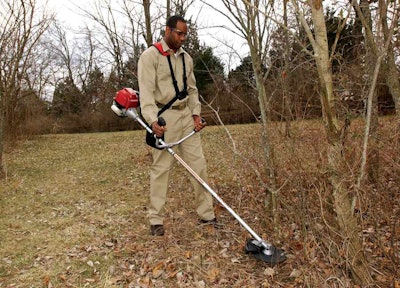 When it comes to landscaping commercial property, a little green can go a long way to infuse natural beauty into urban environments. New, old and anywhere in between, commercial properties call for attractive landscaping.
Enter the grounds professional. The most successful of these landscapers know the important tricks of the trade, chiefly that the right tools for the job help save time and money. In other words, knowing how to stock an outdoor power equipment arsenal with the latest generation of landscaping machinery and tools is job one.
According to the experts at Honda Power Equipment, manufacturer of a complete range of power equipment for rental and consumer applications, today's outdoor power equipment models are stronger, lighter, quieter with less vibration, more fuel efficient, and safer to handle than ever before.
"Commercial landscaping professionals should concentrate on investing in three fundamental equipment types: the tiller, the trimmer and the lawn mower," says Steve Forslund, Honda Power Equipment. "Achieving beautifully landscaped property starts with the sensible and skilled purchase of outdoor power equipment. By extension, the buyer should do some homework, knowing that there are many makes and models available with countless features and benefits."
The Tilling Kind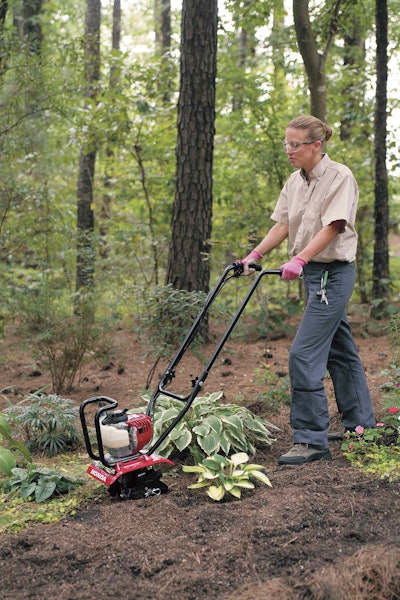 When it comes to blazing paths, especially for new landscape installations where the ground can be hard or rocky, landscape professionals know that the job usually starts with tilling. A tiller actually acts like a power shovel – but unlike a shovel, this piece of power equipment quickly breaks up compacted soil or preps holes for planting.
"Tillers work well for home garden cultivating as well as for deep earth turning in industrial landscaping," cites Forslund. "Ideal for pre-planting ground preparation, today's models are designed and manufactured in three main types – handheld lightweight and portable mini-cultivators, rear-tine machines for medium-sized areas, and a front tine tillers for heavier-duty jobs."
Choosing the right tiller depends on a number of factors. In short, the size and type of job are directly proportional to the size and power of the tiller. Start by measuring the square foot of the area to be tilled as well as the grade and hardness of the soil. For instance, a lightweight, maneuverable tiller with a tilling width of approximately nine inches is ideal for cultivating small beds or plots where operation close to plants and other structures would likely be the case. Bigger jobs, such as prepping soil to lay sod or creating a bed for first time, require a reliable, powerful earth-churning machine with extra size, durability and strength.
"The advanced, heavy-duty design of a rear-tine tiller with a tilling swath of 20 inches, for example, meets the extreme durability requirements of commercial and rental consumers," says Forslund.
Different tiller models come with a multitude of features and benefits that are useful for various aspects of a given job. Depending on the model, many rear and front-tine tillers are designed with multi-speed transmissions and have drag bar operation as well as adjustable tilling heights or depth stakes that help the operator adjust to the level of earth. In addition, tillers often incorporate borders/edgers, aerator tines, dethatchers, tine extensions and furrow attachments.
"Each of these items can alter the depth, appearance and width of the sections of earth being cultivated or cleared," offers Forslund.
A little common sense in purchasing the right tiller goes a long way. "A tiller is an investment and landscape professionals should select carefully to make the most of their purchase," says Forslund. "In surveying the available options, landscapers should consider ease of starting, low emissions, high fuel economy and simple, quiet operation."
Finally, before leaving the dealer or retail outlet with any new earth-moving companion in tow, be sure to purchase the correct safety equipment. "When operating a tiller, it is essential to wear eye protection and gloves for safety," adds Forslund.
The Right Cuts for the Right Lines

"Trimmers are ideal for horizontal cutting challenges presented by grasses and weeds that grow around walls, fences, shrubs, trees, and mailbox posts where lawn mowers can't reach."
No matter the expanse of the area ─ whether an entrance to an apartment complex or a park next to an office building ─ every green space looks better with manicured borders and clean lines. That's why string trimmers for commercial and residential applications are always an integral part of any landscape artisan's power equipment collection.
In most markets, string trimmers are most often used in residential and industrial applications to clear thick grass or brush. "Trimmers are ideal for horizontal cutting challenges presented by grasses and weeds that grow around walls, fences, shrubs, trees, and mailbox posts where lawn mowers can't reach," Forslund explains.
In surveying the different trimmer models on the market, it's important to know that the engine powering a trimmer actually drives most of the differences in technology among models.
"The ability of an engine to operate in a 360-degree inclinable orientation is very important to the overall ease of the trimmer's operation," says Forslund. "In addition, a trimmer incorporating a four-stroke engine design is inherently quieter, virtually smokeless, more fuel-efficient and produces considerably less vibration than most two-stroke engines. And, unlike the two-stroke engine, it requires no special gas/oil mixtures, so there's never a chance for improperly mixed fuels."
Getting the right cut also starts with selecting a trimmer that offers commercial landscapers a number of technologically-advanced elements that contribute to ease of use, dependability, and most important – a precise cut.
Many new trimmers incorporate multi bearing-supported hardened steel shafts housed in an aluminum tube with a centrifugal clutch with final drive through bevel gears, an electronic ignition with primer systems for quick, reliable starts, and an advanced anti-vibration system that isolates controls from engine vibration.
Forslund also is quick to point out that while most trimmers come fully equipped with all the necessary tools for operation, buyers should check to be sure that the model is sold with the proper safety equipment for operation. "The use of a safety harness and eye goggles are key to safe and efficient trimmer operation." The equipment keeps crews safe, healthy and on the job.
And Then There's the Mowing
Where there's green space, there's generally grass and where there's grass, a walk-behind lawn mower generally isn't too far behind. For the commercial landscaper, the right lawn mower plays a significant role in grounds upkeep, so the selection of the right model for the job is paramount.
The many walk-behind mowers on the market today offer a variety of choices to suit both residential and commercial mowing needs. Walk behind mowers are manufactured with a variety of transmissions, drive trains and mulching technologies that differentiate one model from another.
"Productivity suffers when the operator has to constantly grip the handlebars to increase speed, or adjust a jerking mower on an incline, or wrestle to maneuver it onto a truck or into storage."
The selection of the proper lawn mower starts with sizing up the area to be maintained. "There's a direct correlation between the square footage to be mowed and the cutting width required in a lawn mower," says Forslund. "For example, a lawn mower with a 20-22-inch cutting width is the right choice for a lawn that's less than ½ acre. If the area is greater than ½ acre, start with a model with a cutting width that's at least 21 inches."
Another important factor to consider is the type of terrain in question. Knowing whether the area is flat or hilly, rough or relatively smooth dictates whether or not the lawn mower model should be self-propelled, should have adjustable wheel height, or should have a rear or side bagger.
And, no matter how you cut it, properly maintaining a lawn has everything to do with environmental responsibility. As regulations continue to tighten on disposal of grass clippings, savvy landscape professionals know that a lawn mower's performance is just as important as deciding when to bag or mulch.
"Mulching is a cost effective and environmentally sound part of mowing. "Because mulched clippings return natural nutrients to the lawn, they reduce the need for expensive chemical fertilizers," says Forslund. "Mulching also helps maintain moisture in the soil, extending the time between waterings — definitely food for thought when it comes to a landscaping company's operational expenses." Mulching diverts valuable grass clippings from landfills, reduces the volume of waste and can save money for landscape companies in municipalities that charge extra to landfill yard waste.
According to Forslund, bagging sometimes is necessary, particularly when grass is too wet or high. The most economical choice is a model that can both mulch or bag, or even mulch or bag simultaneously, depending on the scenario. And when it comes to bagging, blade configuration has everything to do with how tightly grass clippings can be packed in a single bag.
Depending on the model, lawn mowers offer a number of other technologically advanced features that can help a landscape professional make quicker and safer work of cutting grass. "Honda, for example, offers a Roto-Stop Blade Stop System on many of its models that allows the operator to quickly stop blade operation without stopping the mower," says Forslund. "A clutch system like this allows the user to pass over sidewalks, driveways and even empty the grass clipping bag without wasting time to stop and re-start the mower."
And how about ergonomic design? Increasingly, ergonomic industrial designers are creating functional, comfortable and easy-to-use products ─ inclusive of outdoor power equipment.
"Lawn mowing should be as productive and effortless as possible. Productivity suffers when the operator has to constantly grip the handlebars to increase speed, or adjust a jerking mower on an incline, or wrestle to maneuver it onto a truck or into storage," says Forslund. "With ergonomics in mind, be sure to take a close look at the lawn mower's transmission and how easy it is to operate the model at a variety of speeds without fatigue."
The Order of Operations
Honda offers the most experienced of lawn care professionals some important order of operations tips. "Tilling is the first job," said Forslund. "Once the ground is cultivated and the plants are in the ground, edging first, followed by trimming and then mowing actually allows for quicker cleanup. Because clippings are picked up and mulched along with the grass clippings while mowing, the result is reduced raking and bagging."
Purchasing the right equipment for the right job saves today's landscape pro time, money and energy — and produces a perfectly groomed green space to satisfy the commercial customer and those who live and work in the area.
Information provided by Honda Power Equipment