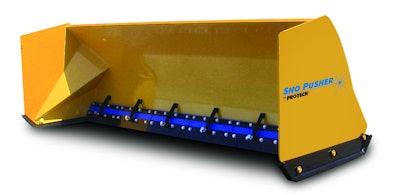 Pro-Tech Manufacturing and Distribution has introduced a steel-edge Sno Pusher.
The Sno Pusher is an IST model and includes upgrades in pivoting wear shoes and a poly suspension.
Other upgrades include 2-foot cutting edge sections, a 6-inch cutting edge and a new side plate profile.
The patent-pending front pivoting wear shoes eliminate wear shoe interference and allows down pressure to be applied to the cutting edges. The poly suspension lessens the impact to the wear shoes chassis.
The poly hinge eliminates springs, bosses, levers, grease fittings and pins.