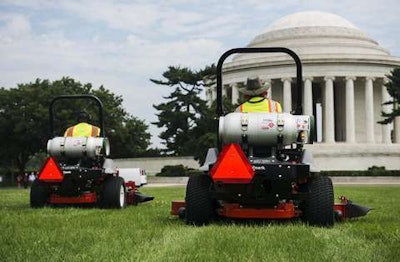 After six alternative-fueled lawn mowers were given to the National Mall and Memorial Parks (NAMA) from the Propane Education & Research Council (PERC), ThompsonGas has been chosen to keep those mowers running.
Each Exmark Lazer Z S-Series lawn mower will be refilled using a propane cylinder exchange system from the company.
The mowers comprise one-third of the Malls' mower fleet and have replaced diesel-powered mowers.
Because of the switch, the Mall will be reducing greenhouse gas emissions by 50 percent per mower, and carbon monoxide emissions are expected to drop by 80 percent.