Two teams from Caterpillar and New Holland Construction joined 400 other volunteers to help during PLANET's Renewal & Remembrance event at Arlington National Cemetery.
The two companies brought more than just helping hands to the event.
Abe Hughes, Vice President of New Holland North America, headed a seven-person team. The company also donated the use of two New Holland Construction skid steers, as well as a New Holland Rustler utility vehicle to help get the job done.
"New Holland is honored to play a part in this important project," says Hughes. "By contributing equipment and manpower to enhance the beauty of this solemn and sacred place, it's one of the ways we can pay tribute to our nation's veterans and leaders."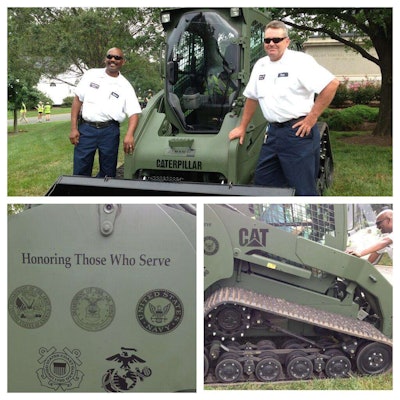 Along with its own team, Caterpillar and local Cat dealer, Alban Cat and PLANET, presented Arlington National Cemetery employees with a custom-painted, military green Cat 277C Multi-Terrain Loader.
With "Honoring Those Who Serve" on the side, the machine will be used on the grounds.
"It's truly an honor to be a part of Renewal & Remembrance in gratitude for the sacrifices and service of the more than 300,000 military men and women who've been laid to rest here," says Jeffrey Griffith, Caterpillar commercial manager. "We are proud to donate the Cat 277C multi-terrain loader to help Arlington National Cemetery with its landscaping and maintenance needs for decades to come. And we know that Alban Cat will provide additional support to ensure the very best maintenance of this loader."