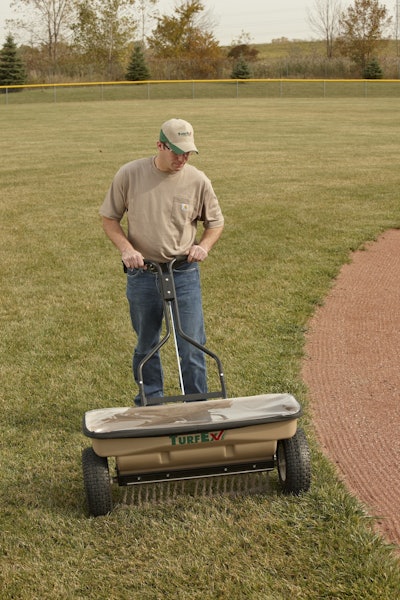 For small yards and confined areas that are hard to reach, TurfEx has introduced the TS95 walk-behind drop spreader.
Because the spreader distributes material in a controlled pattern, the material is not wasted and prevents material from being spread in unwanted areas.
Featuring a corrosion-resistant polyethylene hopper with a 120-pound capacity, the spreader is capable of spreading a variety of materials, including fertilizer, pesticide, herbicide and seed, in a 28-inch pattern.
The spreader includes large, pneumatic tires and a clear poly cover.
TS95 Drop Spreader

Empty Weight

55 lbs. (24.9 kg)

Overall Length

48" (121.9 cm)

Overall Width

38.25" (97.2 cm)

Overall Height

36" (91.4 cm)

Frame

Powder coated

Capacity

120 lbs. (54.4 kg)

Spread Width

28" (71.1 cm)